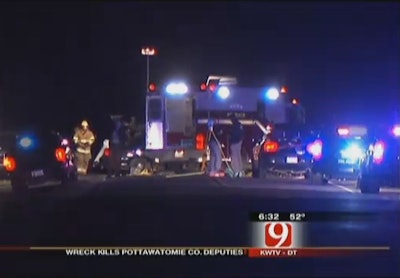 Two veteran Pottawatomie County (Okla.) Sheriff's deputies on their way to serve a warrant were killed when their patrol car struck a semi tractor-trailer on Friday evening.
Deputies Tim Lowery and Mike Roberts were travelling west on Highway 39 four miles west of Highway 177. The deputies crested a hill, when they encountered a semi hauling a lowboy trailer that was attempted to make a U-turn. The deputies car struck the rear of the trailer, killing them in the wreck.
Both deputies had approximately 20 years of experience in law enforcement.
Source: NewsOn6.