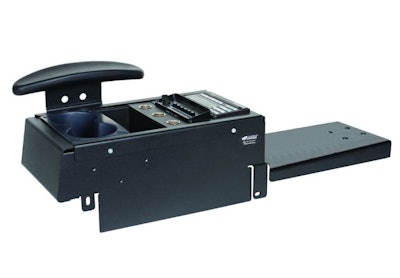 Gamber-Johnson has introduced a low-profile console, passenger-side vehicle base and trunk shelf designed for the 2011-12 Chevrolet Caprice PPV.
The console box is low profile, requires no drilling, and is vehicle specific.
The console box attaches without needing a separate top plate or vehicle leg kit and ships fully assembled. The console, which was designed to work with the vehicle's current configuration, attaches to the existing tunnel plate in the Caprice. The console is notched out to work around the center console shifter.
Because of a higher transmission hump, the console box was designed to work with radio control heads only to allow for passenger side egress in an emergency situation. A computer can be center-pole mounted to keep the computer away from the air-bag zone.
Key product components of the Chevrolet Caprice PPV console box include:
Four fasteners for mounting the console box allows for quick installation.
Horizontal, low profile section accommodates 15 inches of mounting space without an internal cup holder (10.5 inches with an internal cup holder) and is designed to house radio control heads and accessories.
Box will ship fully assembled (except for accessories).
Heavy gauge steel, fully welded for long-term durability.
There are two versions of the Chevrolet Caprice PPV Console Box. Both include all faceplates and filler panels. One version of the console also comes with a driver side armrest and internal dual cup holders (Item No. 7160-0379) and the other version is just the console box (Item No. 7160-0378).
Optional accessories include:

Passenger side armrest (Item No. 7110-0999)
4.5-inch Accessory Mounting Box (Item No. 7110-1000) - has two mounting positions to offset closer or further away from the shifter. Box can hold an extra radio control head or accessories such as an additional remote head, internal cup holder, shallow interior pocket, or 12-volt knock-out filler panel.
Brother printer box (Item No. 7160-0126) can be mounted to the right of the shifter. This option doesn't allow for the computer to be center mounted; upfitters would need to use the vehicle base.
MCS-CUPHOLD2 can be mounted to the right of the shifter.
The passenger side vehicle base (Item No. 7160-0381) is a no-drill solution that works with both carpeted and vinyl floors for the Chevrolet Caprice PPV. A support brace is recommended and can be attached using a bolt behind the dash trim or any other secure mounting point.
The full trunk shelf (Item No. 7160-0380) is designed specifically to allow radios, computers, modems and other equipment to be trunk mounted into the Chevrolet Caprice PPV. The shelf securely latches in the closed position with an easy to use automatic locking center lock and uses a magnetic holdout that keeps the shelf open when you are parked on a slight decline. The trunk shelf is rated to accomodate 150 pounds.