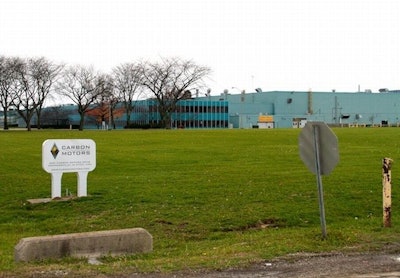 The U.S. Department of Energy (DOE) won't provide $310 million in loans to Carbon Motors Corp. to produce the purpose-built E7 patrol car, the company announced.
"We are outraged by the actions of the DOE and it is clear that this was a political decision in a highly-charged, election year environment," said William Li, Carbon Motors' chairman and chief executive, in a statement. The company is "actively examining its strategic and financing alternatives."
Almost three years ago, Carbon Motors applied for the DOE funding under the Advanced Technology Vehicle Manufacturing (ATVM) program. The company also blamed the Solyndra loan controversy for the denial.
The company developed a prototype vehicle, took over a former Ford plant in Indiana, and began taking orders for the vehicle. The company says it has received about $200 million in private and public financing and has taken orders from more than 500 law enforcement agencies for more than 20,000 cars.
In December, the company appealed to the Obama administration to grant the loan approval. Other automakers, including Chrysler and General Motors, have been thwarted by the ATVM process.
Chrysler, in mid-February, withdrew its loan application and released a statement that it "remains confident in its strategy to bring competitive, fuel-efficient vehicles and technologies to market on schedule." General Motors partered with Bright Automotive to make extended-range plug-in utility vehicles. That company went out of business last month.
In a message on its website on Thursday, Carbon Motors' Li vowed to "continue the fight" to build the vehicle.
Related:
Carbon Motors Appeals To Obama Administration for Loan