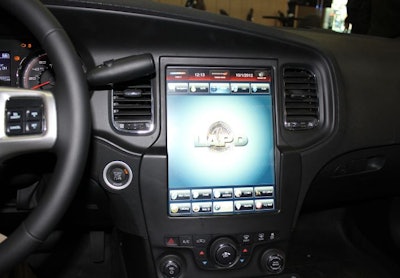 Chrysler has installed 12.1-inch screens into two Dodge Charger patrol cars for the Los Angeles Police Department that significantly reduce the amount of police equipment in the cockpit. The vehicle was on display at the International Association of Chiefs of Police conference in San Diego.
Chrysler also installed its Uconnect in-vehicle connectivity user interface that manages lights and sirens, in-car video, communications, call routing, records checks, report writing, and many other functions of daily patrol work.
The Detroit automaker developed the screen and system to give officers more space inside the Charger Pursuit patrol car and enable the display of data, graphics, and video information used by officers.
An officer can enter data into the system with a plug-in keyboard that stows away when the vehicle is in motion or isn't occupied. The screen can also transition to reveal other vehicle controls, such as climate control.
Many of the brackets needed for radio heads and other police equipment have been eliminated, which reduces a hazard for officers involved in crashes.
"The over-arching reason we're involved in this is to provide a higher level of safety for the officer," said Lt. Dan Gonzalez, head of LAPD's tactical technology section.
Chrysler plans to put the system in three Charger Pursuit patrol cars, two of which will be deployed by the LAPD. Chrysler will keep the third vehicle for testing.
Related: