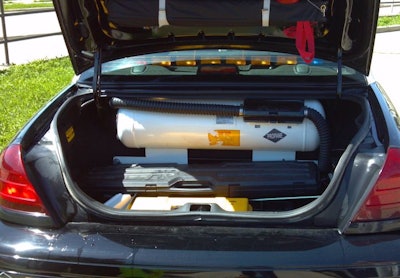 The Iowa County (Wis.) Sheriff's Office expects to save between $5,000 and $5,400 annually on fuel costs after converting one Ford Crown Vic cruiser to run on propane autogas, according to a release from Charter Fuels.
Charter Fuels coordinated the vehicle conversion and autogas fueling as part of the national Alliance AutoGas network, which helps fleets across the country switch to American-made clean fuel. A propane tank is installed in the trunk of the Crown Vic.
"We first started looking into alternative fuel when we thought gasoline prices were high—and it's a good thing, because they're even higher now," said Sheriff Steve Michek. "Propane autogas saves us about $1.50 per gallon on fuel costs, and in the long run we'll save on oil changes and overall maintenance costs because it's a cleaner technology. The deputy who drives the vehicle has even noticed a slight improvement in vehicle performance driving on autogas."
Deputies currently refuel the converted 2010 Ford C.V.P.I. at a Charter Fuels autogas station, but the county plans to have an on-site fuel station installed through Alliance AutoGas as it convert more vehicles in the future, the release stated.