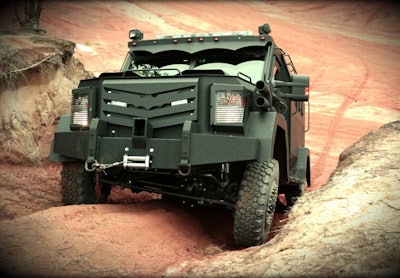 Editor's Note: View our photo gallery, "Armored Specialty Vehicles."
After 9/11, Homeland Security grants became the default way for agencies to purchase expensive equipment they couldn't pay for themselves. Cash-strapped agencies need outside funding sources now more than ever, as they find themselves spending what money they have on overtime pay and the bare necessities instead of purchasing equipment. But the federal government isn't flush with cash, either, and such grants can be hard to come by. The good news is there are many different ways to secure funding for a specialty vehicle needed in your jurisdiction if you're willing to entertain new ideas.
Just because the funding model has changed doesn't mean that law enforcement agencies don't have a need for command centers and armored vehicles. And if they're willing to research their options, it doesn't mean the departments and their communities have to go without.
Other Grants
The Homeland Security grants that seemed to grow on trees after 9/11 are not as plentiful as they once were. But that's not to say law enforcement agencies can't obtain grant funding. They just might need to approach it differently.
"You see lots of talk about major grants. But other agencies are looking at Department of Justice and state-level grants," says Jerry Pollack of Lindstrom Research. "Widen where you look."
The Armored Group is a specialty vehicle manufacturer that helps law enforcement agencies secure grant funding with the help of an employee dedicated to the task full-time. Contract Manager Edgar McGauley aids agencies in applying for the right grants. These include FEMA grants such as Urban Areas Security Initiative (UASI) grants, State Homeland Security grants if they don't meet the qualifications for UASI, Operation Stonegarden grants for border agencies to beef up their security, and Port Security grants for agencies that deal with protecting ports. The Edward Byrne Memorial Justice Assistance Grant program (JAG) in the Department of Justice is another option.
The U.S. government allots so much money per state for Homeland Security to be distributed as each state deems necessary. In Kansas, the money is divvied up among different regions, and each regional council determines how the funds will be administered.
As SWAT team leader for the Junction City (Kan.) Police Department, Officer Thad Jones recognized that his agency and the surrounding area had need for an armored vehicle that could provide Level IV protection. He ruled out applying for a federal grant directly through the government because of the intense competition from so many agencies.
"Those grants usually go to agencies with higher priorities and more demographics," Jones says. "Our city has 25,000 to 30,000 residents. For the area, we're on the bigger end, but for the U.S. we're on the smaller end of the scale."
So he instead applied to the Northeast Regional Emergency Management council of Kansas for a grant to purchase one. Junction City P.D. received approval for the vehicle and funds to cover 95% of the cost. His agency provided the remaining funds and covers any maintenance costs. But because the majority of the funding came from a regional grant, the vehicle must be made available to any agency within the region when needed. In fact, it was for a barricade situation at a neighboring agency that the vehicle was first called into action.
"Now, if we have a situation where someone is armed with up to .50 caliber munitions, we can go into that situation inside the tactical truck and do whatever we need to do, to evacuate injured personnel or civilians, or whatever the situation dictates," Jones says. "Fortunately, thus far we haven't had a need for that type of protection."
Making Up the Difference
Jones' agency was able to cover the remaining $5,000 needed to purchase an armored vehicle with asset forfeiture funds obtained through drug enforcement operations.
"Just from my general observation, it seems agencies are leaning more toward using asset forfeiture or equitable sharing funds to purchase these types of vehicles," says McGauley of The Armored Group. "I personally believe that's a great idea. That way you have criminals paying for the equipment rather than somebody else."
If your agency doesn't have access to these funds or they won't cover enough of the cost, seeking donations is another option. Several clients of The Armored Group have approached people who belong to golf clubs, or other places where affluent citizens gather, to plead their case. They explain that if there is a major incident in the jurisdiction, an armored vehicle will improve the chances of resolving it more quickly and with less loss of life. Johnson says agencies he's spoken with have had some success raising money this way.
Taking out a loan on a portion of your vehicle's cost is another way to finish footing the bill. But if you didn't receive all of the grant money you asked for, another option to consider is purchasing a vehicle with the money you did receive.
"Some agencies might not even put in for a grant, because they think the dollar amount you have to ask for is too high," laments McGauley of The Armored Group. But he says that's just not true, at least for his company, which works with other manufacturers to create customized vehicles that work around an agency's budget. "If they put in a request for a wrap-around protective vehicle for $100,000 and they get it approved, we can build them one that carries 10 guys and has more features than they'd expect," he says. "Rather than offering set tier packages like a grocery store, we're like a sandwich shop. You tell us what you want and we'll put it together."
Pooling Resources
If you worry your agency can't come up with all of the money to purchase a specialty vehicle, try asking other departments in your area to go in on it with you. While Junction City P.D. didn't seek help from other agencies to purchase the vehicle itself, a neighboring jurisdiction did pay for additional equipment. Considering all agencies in the region benefit from this vehicle, this approach makes sense for all involved.
'I think it is an excellent idea for multi-jurisdictional teams to pool their funding together like we did," says Jones, who organized all aspects of the vehicle's purchase and upfitting. "If it wasn't for the Geary County (Kan.) Sheriff's Department we wouldn't have as much equipment in the truck as we do now. They helped fund the cost for the radios."
If you're going to work with other agencies, Jones does suggest designating one point person to streamline the process. "If you get too many people involved, information can get lost and confused," he cautions.
Leasing
There are many ways to purchase a vehicle. But has your agency considered leasing one instead?
This is different from an individual leasing a car. Law enforcement agencies lease to own. They don't have to worry about how many miles they put on a leased specialty vehicle or whether it suffers damage. It's more like a loan spread out over a period of years.
"We take the cost of the vehicle and have some very competitive interest rates and break it down over a number of years, depending on what the agency is looking for," explains Bob Crowe, government leasing executive at Mears Motor Leasing. "We offer different types of pricing, be it monthly, quarterly, semi-annual, or annual, and let them decide what fits best with their budget."
Amortizing costs over a longer period of time means you don't have to take the entire cost of a vehicle out of one year's budget, which will most likely make the bean counters at your agency and your jurisdiction very happy. It also means if you can spread it out enough, you might not even need a grant. If you can decrease the cost even more by sharing it, all the better.
"If you plan to share one of these vehicles with the department next to you and lease it for seven years, the cost suddenly becomes supportable and in reach," says Jerry Pollack of Lindstrom Research Company.
You can apply the same principle to other vehicles in your fleet, as well.
"We provide leasing for all vehicles and most equipment being used by law enforcement agencies around the country," says Crowe. "We've even leased out the unmanned drone helicopters used for surveillance."
Be aware that not all companies can provide leasing options on their vehicles, however. "A lot of them don't have the wherewithal to float the money out over a period of years," says Crowe. "They put all the money that they have into building the truck, and then they need to recoup that money so that they can build the next round."
But leasing is a trend that seems to be gaining traction with both agencies and manufacturers because it allows them to follow through on a sale, even if it takes some time to complete the transaction.
Winning Them Over
If your agency is having difficulty convincing the city council or someone else controlling the purse strings that you have a justified need for a high-priced vehicle, there are several ways to tip the scales in your favor.
"The grant process involves not only getting the grant, but also selling your brass on it," says Johnson of The Armored Group. "I've seen teams get approval for grants, but have it get shot down by the chief, sheriff, board, mayor, etc., because of worrying about other people's perceptions. You've got to have everybody on board."
This was a problem for the University of California, Berkeley Police Department. After going through the entire grant process, they had to turn down the federal grant money for an armored vehicle because campus administrators and city leaders agreed with community members that it might be used to intimidate protestors. Johnson believes in some cases armored vehicles that don't look overtly military can help ease people's worried minds. And like it or not, getting a grant isn't worth much if you can't use it.
In this case it was not enough to explain that an armored vehicle is used to save the lives of officers and civilians. But other agencies have had success making this argument, so it's a conversation worth having.
Another way to get people on your side is to plan to procure a vehicle with additional features your community will benefit from. "We see law enforcement departments looking at their own tactical needs, and then trying to spread that specification a bit so a vehicle has a broader visible base of applicability," says Pollack of Lindstrom Research. Examples include vehicles that can withstand flood waters or roads damaged in earthquakes to aid in rescues following natural disasters. This approach has helped agencies in Florida and California secure funding for much needed vehicles that now serve multiple purposes.
While proven versatility won't likely make you eligible for additional grants, it might put you higher on the list to get grant approval, says Pollack. And it could definitely sway community members to support your cause.
Most importantly, if you can prove to your agency and your community that you can obtain a vehicle to meet your needs without breaking the bank, you're well on the way to adding it to your department's arsenal of tools.
Related:
PHOTOS: Armored Specialty Vehicles
Specialty Vehicle Companies: