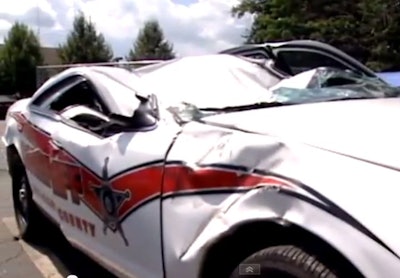 The Vermont farmer accused of flattening seven Orleans County Sheriff's cruiser in a tractor rampage pleaded not guilty to the charges on Tuesday and remains in custody with a $50,000 bail.
Roger Pion, 34, pleaded not guilty to 13 charges stemming from the attack, which investigators say was a result of Pion's rage about a recent arrest.
Pion's lawyer, David Sleigh, argued the most serious allegation of trying to assault law enforcement officers with a weapon should be tossed, claiming Pion never wanted to injure anyone with the tractor, reports NECN.
Related:
Angry Vt. Farmer Charged with Driving Tractor Over 7 Sheriff's Vehicles