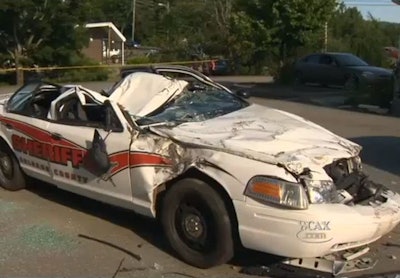 The Vermont man who used his father's tractor to crush seven Orleans County Sheriff's vehicles has been found mentally incompetent and will receive treatment rather than face a criminal trial.
Roger Pion, 34, has been staying at Fletcher Allen Health Care in Burlington. He was involuntarily committed to the custody of the Vermont commissioner of mental health.
A hospitalization hearing will next determine how and where Pion will receive treatment. In September, documents were filed with the court that suggested that Pion was suffering from mental instability and was being driven to action by voices in his head, reports the Caledonian-Record.
Related:
Vt. Cruiser Crusher Free On Bail
Vermont Cruiser Crusher Pleads Not Guilty
Angry Vt. Farmer Charged with Driving Tractor Over 7 Sheriff's Vehicles