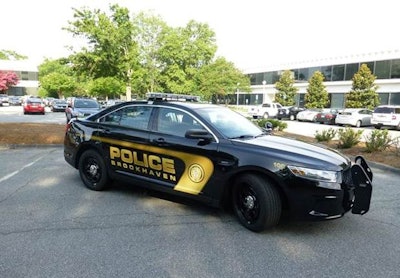 A new city that formed in DeKalb County, Ga., in December has hired 54 officers and purchased a fleet of 57 marked patrol cars.
The Brookhaven Police Department, which unveiled its new vehicle fleet on Tuesday, will take over patrol duties from the DeKalb County Police Department on July 31.
The city purchased 46 Ford Police Interceptor sedans, three Ford P.I. Utility vehicles, seven Chevrolet Impalas, and one Chevrolet Caprice. The total cost of the vehicles, including adding police equipment, is approximately $2.3 million. The vehicles were chosen for their "reliability and fuel efficiency," Communications Director Megan Matteucci told Government Fleet.
The city does not have a fleet department, Matteucci said. A local vendor will perform routine maintenance on the police vehicles.
Covering 12 square miles, Brookhaven is now DeKalb County's largest city with 49,000 residents. Although DeKalb County now has a smaller area to patrol, its patrol fleet size will most likely stay the same.
While the decision has yet to be finalized, "it is not likely [the DeKalb County PD] will reduce the number of vehicles they have," said Greg Brake, associate director of DeKalb County fleet management. Patrol units run three shifts per day, accumulating between 40,000 and 70,000 miles per year, Brake said. Officers and vehicles will most likely be reassigned to other areas.
By Thi Dao