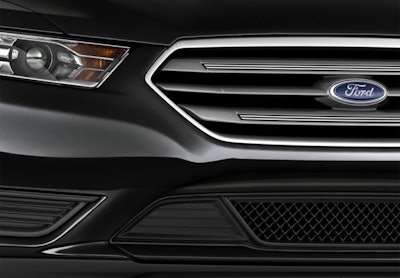 Ford has introduced a Taurus-based special service police sedan for detectives, administrators, and other non-pursuit-rated law enforcement missions. The 2014 model-year sedan comes after feedback from Ford's police customers, according to the automaker.
The sedan features Ford's 2.0L EcoBoost engine, which is capable of producing 240 hp and 270 lb.-ft. of torque, according to the automaker. The police-ready special service sedan offers comparable fuel economy to the retail version sold to the public as well as cost savings in adding police equipment.
The special service model will achieve 20 mpg city, 30 mpg highway, 26 mpg combined, according to Ford's estimates. The non-police 2.0L-powered Taurus sedan sold at retail can achieve up to 22 mpg city, 32 highway, for 26 mpg combined. Official EPA fuel-economy ratings will be available in December.
To improve fuel economy further, the special service sedan will feature Active Grille Shutters behind the grille that open and close based on vehicle speed and engine temperature to balance engine cooling needs with vehicle aerodynamics.
Ford noted that if a police vehicle is driven 30,000 miles per year, the special service police sedan's more fuel-efficient engine could allow agencies to save up to $5,040 over the course of three years (based on $3.65 for the average price of a gallon of gasoline) when compared with the outgoing 4.6L V-8 Crown Victoria.
The special service police sedan features the same safety and durability standards as the pursuit-rated Ford Police Interceptor and is also upfit-ready. It also shares many parts with its Police Interceptor brethren, according to the automaker.
The special service sedan would appear to compete with the Chevrolet Caprice 9C3 detective version introduced in the 2011 model year. Chrysler doesn't currently offer a special service sedan.