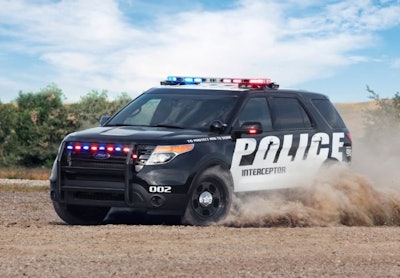 Ford will begin offering its 2014 Police Interceptor Utility vehicle with its turbo-charged 3.5-liter EcoBoost V-6 engine later this year, the automaker announced.
The engine can deliver 365 hp and produce 350 lb.-ft. of torque, and is same one that Ford uses in its F-150 pickup truck models equipped with a V-6 engine. Ford also offers this engine in its Police Interceptor sedan.
With the addition of this engine, Ford will offer three engine choices for the P.I. Utility. They include the currently available 3.5-liter V-6 with front-wheel drive, a 3.7-liter V-6 with all-wheel-drive, and the new 365 hp 3.5-liter EcoBoost V-6 with all-wheel-drive.
Ford's Police Advisory Board identified this engine as their "No. 1 want," said Ford's Gerry Koss, fleet marketing manager for the automaker. He went to say that the Police Interceptor Utility represents half of the company's police vehicle orders and that the sales results prove that the automaker's two-vehicle strategy was on target.
The turbo-charged P.I. Utility is scheduled to go into production during the fourth quarter of this year. He added that the automaker will announce pricing for this engine at that same time, Koss told Government Fleet. The vehicle has been submitted for Michigan State Police vehicle testing in September.
The Nevada Highway Patrol plans to put this vehicle into service.
"This is good news," said the agency's Lt. Charlie Powell, commander of fleet operations. "We at Nevada Highway Patrol look forward to putting this platform in the field as soon as practical."
By Greg Basich