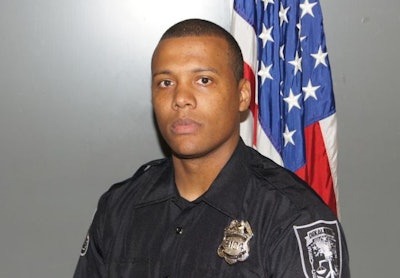 A DeKalb County (Ga.) Police officer responding to back up other units in a pursuit died after losing control of his vehicle and striking a tree.
Officer Ivorie Klusmann, 32, had joined the department in April and recently completed his probationary status, the agency announced during a press conference.
The crash occurred at 2:45 a.m., shortly after the officer had broken off an earlier pursuit of the suspect following a traffic stop. The officer had pulled over Gregory Lee Harvey, 27, at about 2 a.m. After handing the officer his driver's license, Harvey fled.
Another officer spotted Harvey and after hearing that over his police radio, Klusmann attempted to join that pursuit. His vehicle left the roadway on DeKalb Medical Parkway near Heritage Park Trail and struck a tree.
Harvey turned himself in to DeKalb County Police investigators at his Stone Mountain home on Sunday. He faces numerous charges including murder, misdemeanor reckless driving and felony theft by receiving motor vehicle, according to the agency.
The officer leaves behind two children.