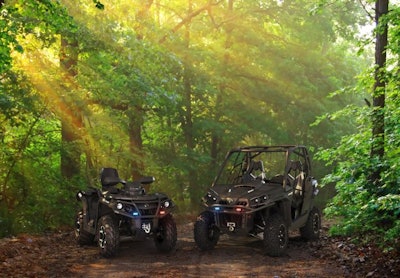 BRP is bringing the performance, handling, and rider-focused design of its Can-Am ATVs and Side-by-Side vehicles to the law enforcement and security markets.
The Law Enforcement Outlander L DPS 500 and Outlander Max XT 650 all-terrain vehicles and Commander XT 800 side-by-side vehicle include red and blue emergency lighting with 25 selectable flash patterns, an audible warning device, and a matte black color scheme.
Because these items are installed by the factory, professionals can just jump on and start their work day. And organizations get the peace of mind of an excellent 12-month limited warranty and extensive service network.
According to the company, the Outlander L is a value ATV with dynamic power steering for excellent control in all conditions; the Outlander Max is designed for safely carrying one or two riders and its longer wheelbase provides outstanding handling and stability; the Commander cockpit was designed around the occupants with ample hip and shoulder room for all-day comfort, and its handy dual-level cargo box is an industry benchmark. Each has the most power in its class, the company says.
These vehicles are now available at Can-Am off-road dealers across North America.