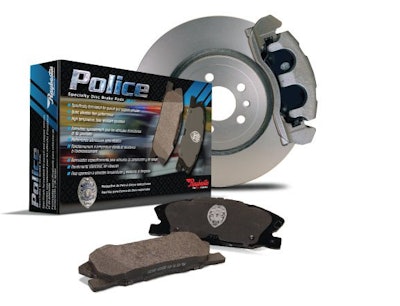 Raybestos has further expanded its family of brake products with the addition of disc brake pads and rotors that are specially manufactured to meet the demanding needs of law enforcement professionals. The new Raybestos Police friction line offers coverage for pursuit and special service vehicles that require optimal performance during high-speed activity.
"With the rigorous conditions that police vehicles endure on a regular basis, drivers can depend on Raybestos Police brakes to deliver exceptional stopping power, temperature stability, and noise-free braking performance," said Bruce Tartaglione, senior vice president of global sales and marketing for Brake Parts Inc. "Our latest brake line was formulated to deliver the unsurpassed quality and long-lasting brake life that has made Raybestos the best in brakes for over 100 years."
Engineered to meet or exceed OE specifications, the Raybestos Police line is made to be long wearing (excellent cost/mile value) and high temperature fade resistant, while providing quiet operation and vibration-free performance. Coverage for pursuit and special service vehicles is available for up to and including 2016. Rubber-coated abutment clip hardware is included by application.
For more information about the complete line of Raybestos brake products, including disc pads and shoes, rotors and drums, master cylinders, wheel cylinders, calipers, hoses, cables and hardware, visit www.raybestos.com.
Raybestos has been known as the best in brakes for over 100 years, according to the company. With a demonstrated commitment to research, development, and testing, Raybestos is widely recognized for quality brake components, including friction, rotors, drums, calipers, and hydraulic products. The company was the first to introduce Enhanced Hybrid Technology (EHT) with its Element3 brake pads, delivering the best attributes of ceramic and semi-metallic for optimal performance, improved pad wear and durability, and increased stopping power during aggressive braking, according to the company. To learn more, visit www.raybestos.com.