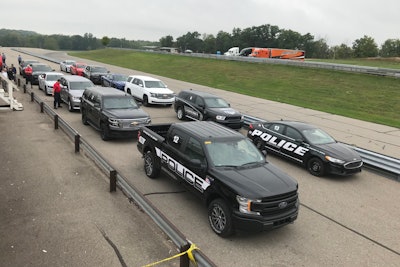 The Michigan State Police recently tested 2020 model-year police vehicles. Below are the preliminary results for vehicles.
This year, it tested 13 vehicles: Chevrolet Tahoe 5.3L RWD and 4WD; Dodge Charger 3.6L RWD and AWD; Charger 5.7L RWD and AWD; Dodge Durango 3.6L AWD and 5.7L AWD; Ford Police Interceptor Utility Hybrid AWD, 3.0L EcoBoost AWD, and 3.3L AWD; Ford F-150 Police Responder 3.5L EcoBoost; and Ford Police Responder Hybrid sedan.
For the acceleration test, the Ford PIU EcoBoost had the fastest 0-60 mph and 0-100 mph times (5.43 and 13.99 seconds). The second fastest acceleration in each category were sedans—the Charger 5.7L AWD (0-60 mph in 5.81 seconds) and the Charger 5.7L RWD (0-100 mph in 14.04 seconds). The Charger 5.7L AWD and the PIU EcoBoost tied for top speed of 150 mph.
In the driving dynamics test, the Charger 5.7L AWD had the fastest average lap speed of 1:36:31. The second fastest (and fastest SUV) was the PIU EcoBoost, at 1:36:52.
During brake testing, the Police Responder Hybrid Sedan had the shortest projected stopping distance from 60 mph of all vehicles tested (126.6 feet). The Dodge Durango 5.7L had the fastest stopping distance of the SUVs (129.2 feet).
The PIU Hybrid, being delivered this fall to police agencies across the U.S., also performed well, beating out V-8-powered utility vehicles in various tests, according to Steve Tyler, Ford's police brand marketing manager. Among the SUVs, it was second behind only the PIU EcoBoost in acceleration and top speed tests (0-60 mph in 7.2 seconds, 0-100 mph in 17.62 seconds, and top speed of 138). It also came in second among the SUVs (behind the PIU EcoBoost) for the fastest average lap, at 1:39:34.
The Michigan State Police has been testing police cars since the 1950s. Successful test results from MSP and the Los Angeles Sheriff's Department validate manufacturers' engineering efforts in building a car capable of handling the stresses associated with police pursuits. The MSP recommends that agencies apply the information to the needs of their departments. Final results are not yet available.