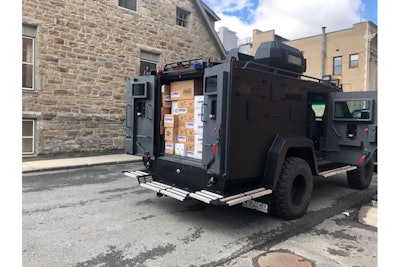 Pittsfield, MA-based Lenco Armored Vehicles has announced it is donating nearly $300,000 worth of personal protective equipment (PPE) to local first responders and medical professionals working on the front lines of the coronavirus pandemic.
"We've been manufacturing armored vehicles that protect first responders for decades," said Lenny Light, vice president of Lenco. "Given these are our core customers, we felt a special responsibility to support them as they work to ensure the safety of our community."
Altogether, the donations add up to nearly $300,000 of PPE, including sanitizer, disinfecting wipes and spray, respirators, masks, eyewear, gloves, protective clothing, and power air respirator supplies. Total pieces of equipment donated by Lenco are well over 35,000.
The first responder recipients of the PPE include:
* Regional police departments (Dalton, Lanesborough and Pittsfield)
* Regional fire departments (Dalton, Lanesborough, Pittsfield and Richmond)
* County Ambulance (Pittsfield)
* Action Ambulance (Pittsfield)
* The emergency room of Berkshire Medical Center (Pittsfield)
"For our first responders, PPE is a lifesaving necessity," said Pittsfield Fire Chief Thomas Sammons, "Lenco's incredibly generous donation supports our work on the front lines of the pandemic response, giving our men and women greater protection."
Pittsfield Police Department chief Michael Wynn agreed on the importance of PPE. "Keeping our first responders safe and healthy means we can do more work in the fight against COVID-19, allowing us to serve greater numbers of our community at a particularly tough moment in history. We're grateful to Lenco for this donation."
"In our manufacturing of armored vehicles," said Light, "we've been listening to the needs of first responders since day one. During this challenging time, when the world is depending on first responders more than ever, we knew we had to do our part. We're happy to help, and we thank first responders for their continued courageous work."
To learn more about Lenco Armored Vehicles, go to LencoArmor.com.