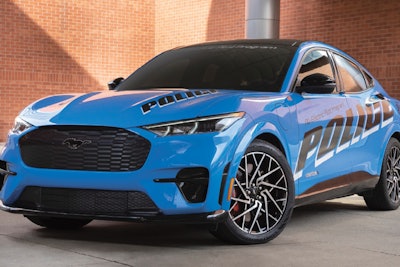 It was an announcement that made both the automotive and law enforcement media take notice. Ford was sending a police marked version of the all-electric Mustang Mach-E to the Michigan State Police Vehicle Evaluations. It would be the first electric vehicle to be tested at the annual event.
Ford released that news on Sept. 17. Just a week after the company had shown a police concept car over in the United Kingdom, complete with yellow and blue police markings. Some in the auto press, believed the all-electric SUV was better suited to European police duty. Ford challenged that belief, releasing photos of a baby blue and black U.S. police concept Mach-E and taking the battery-powered Mustang for a run with the Michigan troopers.
Run is exactly what the Mustang Mach-E did. Under the command of Lt. Mike McCarthy, head of the MSP's precision driving unit, the electric SUV performed impressively at the Chelsea Proving Grounds.
McCarthy piloted the electric Mustang to 120 mph in just under three quarters of a mile. Its top speed of 124 mph was a few notches below the PI Utility Hybrid, but still very respectable. The Mach-E was also quick, reaching 0 to 60 mph in an average of 4.03 seconds and 0 to 100 mph in an average of 11.94 seconds. Those acceleration figures are better than Ford's current line of Police Interceptor Utility pursuit-rated SUVs. Braking was also impressive. MSP projected the Mach-E's stopping distance at 125 feet. That's better than all of Ford's pursuit-rated SUVs, according to MSP.
Not Pursuit Rated
It's important to note here that the Mustang Mach-E is not a pursuit-rated vehicle.
"We don't actually have a Mustang Mach-E police package," says Greg Ebel, Ford's police vehicle brand manager. "Based on customer feedback and interest we decided to enter the MSP testing."
Ebel says Ford had two objectives when it sent the Mach-E to the Michigan troopers. It wanted to benchmark the vehicle's performance as a police vehicle. And it wanted to show proof of concept. "We wanted to demonstrate to the industry and to our customers that an all-electric vehicle could withstand the rigorous demands of MSP testing and that type of duty cycle," Ebel says.
Ford has immense stakes in the coming transition from internal combustion engine police vehicles to all-electric. The company holds a majority share of the American police vehicle market and its Ford PI Utility pursuit-rated SUV is the most popular patrol vehicle in the United States.
Ebel says the company chose its Mustang Mach-E for its first all-electric police concept because it was already on the market and law enforcement agency interest in the vehicle was high. "There are some agencies that have already been to dealerships and have purchased a retail Mach-E. They have been running their own police pilot program on thevehicle."
The company is currently taking agency orders for the Mach-E and the soon-to-be released F-150 Lightning all electric pickup. It has also issued police modifier bulletins for the Mustang and the Lightning, with upfit guidance.
148 Units
Most electric patrol vehicle testing at American police agencies has followed the same pattern. The agency acquires one or two vehicles, upfits them with the necessary equipment and lights, decorates them with the appropriate markings and uses them on patrol or for special service work. The local press promotes how the agency is doing its part to be more green. And the agency doesn't buy any more electric vehicles, either because its cheaper to buy patrol vehicles with internal combustion engines or because it doesn't have the budget for any new vehicles.
Even larger agencies have followed this pattern. The New York City Police Department, for example, has oneTesla 3 and 30 Chevrolet Bolt compacts that are currently on duty for school safety. But soon the NYPD is going to have a lot more electric patrol vehicles, 148 Mustang Mach-Es.
The decision to buy the Mustangs was not made by the NYPD. Commissioner Robert Martinez, who oversees the city's 10,000 vehicle police fleet, says he no longer has funding to purchase new vehicles because of defunding measures enacted in 2020.
New York City's Department of Citywide Administrative Services (DCAS) made the purchase. DCAS actually placed an order for 184 Mustangs. Most of them are going to the NYPD. The remainder will join the fleets of other city response agencies.
The DCAS order of electric Mustangs is part of the city's efforts to meet former Mayor Bill de Blasio's goal of a fully electric fleet by 2035. To meet that ambitious deadline the city has allocated $420 million for buying all-electric vehicles through fiscal year 2031.
Martinez has some doubts about that plan. He prefers gasoline-electric hybrids. "One of my concerns is having all of our eggs in one basket with electric vehicles," he says. He also worries about the availability of suitable all-electric police vehicles now and in the future.
Out of the currently available all-electric vehicles, Martinez believes the Mustang Mach-E is the best option for NYPD patrol duty. He likes the SUV's performance. He also likes that it has a steel roof for light bar installation, that the control displays are not as distracting as they are on some all-electric vehicles, and that the trunk is "fairly roomy."
Martinez acknowledges that the Mustang Mach-E does not offer as much cargo space or cabin room as the city's Ford PI Utility SUVs, but he doesn't believe that will be an issue. "Not all of our cars are set up 100% the same," he says. To compensate for the cabin room difference between the department's current patrol SUVs and the Mach-E, Martinez is not installing cages in the Mustangs. "Other than that I don't really see any changes in how they will be outfitted," he explains
NYPD's electric Mustangs are scheduled to be delivered by the end of June. Currently, the department's fleet team is preparing for them. The NYPD is fortunate that a large charging infrastructure is already in place in the city. In 2019 the city installed 100 fast electric chargers across the five boroughs. There are also 3,100 plug-in units and 1,070 chargers in the city's garages, though not necessarily in the police fleet areas. In addition, the city has a large number of commercial chargers. Martinez envisions officers using these commercial systems through a city-paid card or phone app.
The Charging Question
Charging infrastructure is of course a major issue for departments that plan to add electric patrol vehicles. Not every city has the charging infrastructure of New York. Some towns may not have any at all.
Another charging concern is how fast can you charge the vehicles and get them back out on the street. Asking that question will lead to one of the most complex discussions in contemporary automotive marketing. Variables include the amperage rating of the charger, whether you are charging 100% or just a quick charge, and many others.
Electric vehicle batteries are sort of like really large smartphone batteries. They give you more time (range) on a long charge or "trickle charge" but that takes considerable time to reach 100%. They can be charged to about 80% much more quickly. But that can reduce the long-term performance of the battery, if you do it too often.
Because charging scenarios are so complex for fleet vehicles. Ford offers its customers consultation on the issue through its Pro Charging team. "They work very closely with customers to plan and deploy a charging solution. It's not one size fits all," Ebel says.
Law enforcement presents some difficult charging scenarios. "Some police vehicles are 'hot seat' vehicles, running 24 hours a day," Ebel explains. For an internal combustion engine vehicle, you just fuel it up and get it back on the road. For an all electric vehicle, you have to understand the scenarios for charging."
The scenarios for charging are numerous. Officers can completely charge their vehicles overnight either in the fleet garage or parking lot, or perhaps at their own house for take home vehicles. During their shifts they might fast charge the vehicle on a commercial system while writing a report, while in court, or while grabbing a bite.
Ebel says commercial fleet experience is being applied to public safety to help plan charging strategies, but he believes the Mach-E pilot will help Ford and its law enforcement customers adjust those strategies for better police performance. "We will be learning a lot, not only us but our customers as well," he says.
Technology may actually make charging concerns less critical. Batteries will likely improve to the point that range and therefore charging becomes less of a concern. There are also experiments under way with electrified roadways that would charge electric vehicles while you drive. An Israeli company, Electreon Wireless, is building such a system near downtown Detroit and plans to start testing next year.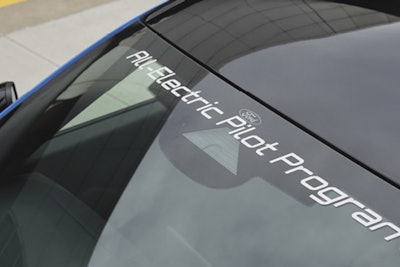 Ready for Patrol?
The Mustang Mach-E is attracting a lot of attention as a patrol vehicles, but it's important to reiterate that the all-electric SUV was not developed for police duty. It remains a police concept vehicle that Ford is offering as a pilot program.
As such, the vehicle does have its limitations. Many police vehicle experts have drawn attention to its cabin room and cargo space when compared to 2022 pursuit-rated SUVs with internal combustion engines. "It's not as large as police officers are accustomed to," says MSP's McCarthy.
All-electric patrol vehicles also have some inherent drawbacks for certain types of law enforcement duties. One of these drawbacks is range. The Mach-E, for example, has a range of 270 miles. McCarthy says some of Michigan's troopers drive farther than 300 miles in a shift.
McCarthy believes it may be some time before electric vehicles are practical for highway patrol units and even rural patrol units such as sheriff's office vehicles. "The urban environment has a lot more infrastructure built up for electric vehicles," he says.
For each inherent drawback, there are also benefits. Which is why so many agencies are contacting Ford about trying the Mach-E. Zero emissions is just the start. Electric patrol vehicles can also offer cash-strapped agencies monetary savings. Electricity for charging is much cheaper than gasoline. There are also savings on maintenance. All-electric vehicles do not have engines, so no oil changes and no engine work. There's also less wear and tear on brake pads because all-electric vehicles use regenerative braking—technology that reverses the spin of the electric motors for speed reduction—except for hard stops.
Detractors of electric vehicles are quick to raise concerns about battery life. Ford warranties the battery in the Mach-E and the vehicle's electric components for 100,000 miles or eight years. Agencies will have to determine if that fits in with their vehicle service life requirements and/or replacement of the battery is economically feasible.
Coming Attractions
For now the pilot programs for the Mustang Mach-E and the soon-to-be released F-150 Lightning pickup are Ford's primary focus for all-electric patrol vehicles. But it's clear that Ford is testing the water.
Ebel would not commit to a timeline on the development of a pursuit-rated all-electric Ford patrol vehicle. But anyone with knowledge of the law enforcement vehicle market would bet the company is planning to develop an all-electric PI Utility with all the cabin and cargo space of its current models.
"We know the interest is there for [a purpose-built all electric patrol vehicle]," Ebel says. "We want to make sure that when we do launch that vehicle that we do it right."