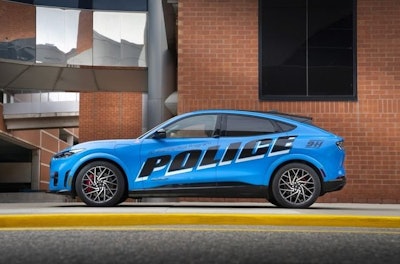 New York City is placing an order for 184 all-electric Ford Mustang Mach-E Sport Crossover Utility Vehicles for law enforcement and emergency response use, the New York City Department of Citywide Administrative Services (DCAS) has announced.
The new electric crossovers are slated for use by the New York Police Department (NYPD), the New York City Sheriff's Office, the Department of Correction, the Department of Parks and Recreation, the Department of Environmental Protection, NYC Emergency Management, DCAS Police, and the Office of the Chief Medical Examiner. They will replace gas-powered vehicles currently in the city fleet and are expected to be delivered by June 30.
The announcement is part of a $420 million investment in fleet electrification and the city's plan to transition to an all-electric fleet by 2035.
The NYPD alone operates over 6,200 light-duty enforcement vehicles, the largest single group of vehicles in the city fleet of nearly 30,000.
"Law enforcement vehicles are the largest and most visible part of our city's fleet," said DCAS Deputy Commissioner and NYC Chief Fleet Officer Keith Kerman. "This order of all-electric Mach-Es will enable our law enforcement agencies to put electric models to the full test and work out maintenance, lights and sirens, charging, and other operational issues. It is a critical step towards our goal of a fully electric fleet."
The all-electric Ford Mustang e-Mach GT models will have 270 miles of range and nearly 27 cubic feet of cargo space, to enable the storage of critical emergency and law enforcement gear. To date, DCAS has installed 29 fast chargers for the NYPD and 103 fast chargers citywide. DCAS is slated to begin work in 2022 to install 275 additional charging units.
The city is also considering purchasing a reported 250 Tesla 3 all-electric sedans for the police fleet, in a sole-source contract totaling $12.36 million. The contract is currently undergoing the approval process and has not yet been finalized.