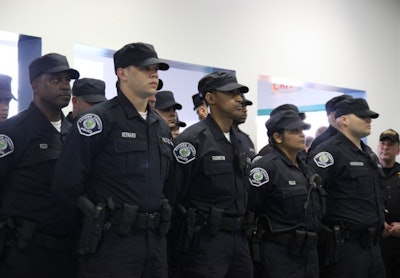 The first wave of officers from the newly constituted Camden County Police Department's Metro Division hit the streets Monday to curb violent crime, rampant drug dealing, and prostitution in one of the country's most dangerous jurisdictions.
The county policing agency will gradually replace the Camden (N.J.) Police Department, which will be dissolved by April 30, and provide law enforcement services with a blend of former city officers, laterals from smaller agencies, special officers who will receive additional training, and civilian police aides.
The Camden County Board of Freeholders picked Camden Police Chief Scott Thompson to lead the new agency, which will eventually reach 401 sworn officers later this year. On Monday, 61 former Camden PD officers were sworn into the ranks of the county agency.
"These sworn police officers will stabilize Camden city and make Camden County a safer place to live," said Freeholder Director Louis Cappelli, Jr. "The status quo in our county seat is unacceptable and the level of violence cannot continue over the nine square miles of the city."
New officers will be paired with former city officers for an eight-week field training program to help familiarize the new officers with the city. On Monday, 24 new officers joined the former city officers as field trainees, the county announced.
"Basically their mission yesterday was they went out in the streets and made their presence known," Ron Tomasello, a county spokesman, told POLICE Magazine. "The Camden County Police Department will put more officers on the street than the Camden city department was able to with their resources."
The agency will also send 66 Class II Special Officers—seasonal officers often used in beachside communities—to a three-week training course. The New Jersey Police Training Commission has approved the course for these back-up officers who now have full police powers, but may not carry a firearm off duty. Standard police training in New Jersey lasts 26 weeks.
The Metro Division will also hire more than 50 civilian police aides to help at crime scenes, operate video surveillance cameras, and respond to nonviolent crimes. About 1,300 people have applied for these positions.
The new agency will be funded through city property tax revenue and state funds for municipal aid. Earlier this year, the state granted the Freeholder Board $7.5 million in start-up funding for the agency. With that funding, the agency has hired 268 officers and purchased Dodge Charger Pursuit patrol cars, body armor, uniforms, side arms, and badges.
In 2012, Camden recorded 67 homicides, breaking a record set in 1995. So far this year, the city has already doubled its homicide rate. Drug dealing has overrun some 170 city blocks, according to the agency. In January, CQ Press rankings listed Camden as the city with the highest crime rate in the nation.
By Paul Clinton