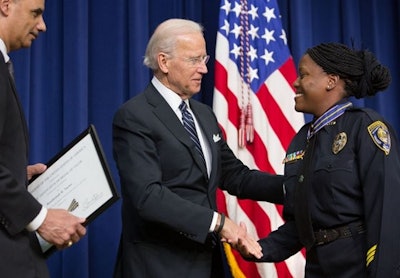 Fifteen law enforcement officers were awarded the Medal of Valor for their heroic acts during a Wednesday ceremony at the White House.
Vice President Joe Biden and Attorney General Eric Holder handed out the honor and said the officers were dedicated examples of public safety and service to protecting their communities.
Seven officers were honored for 2009-2010, including Officer Julie Olson of the Maplewood (Minn.) Police Department; Officer Reeshemah Taylor of the Osceola County (Fla.) Corrections Department; Officer Michael Neal of the Arkansas Game and Fish Commission; Officers Sean Haller and Rafael Rivera of the California Highway Patrol; and Trooper Robert Lombardo and fallen Trooper Joshua Miller of the Pennsylvania State Police.
Eight officers were honored for 2010-2011, including Deputy Krista McDonald of the Kitsap County (Wash.) Sheriff's Office; Officer Timothy McClintick, Officer Max McDonald, Officer Douglas Weaver, Sgt. Karl Lounge Jr., and fallen Sgt. Thomas Baitinger of the St. Petersburg (Fla.) Police Department; and fallen deputies Cameron Justus and William Stiltner of the Buchanan County (Va.) Sheriff's Office.
Details of the officers' heroic actions can be found on the White House website.