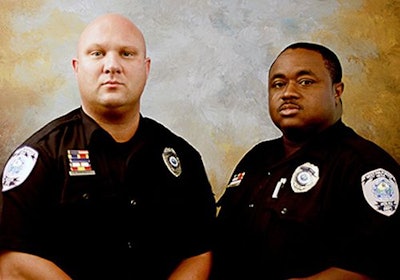 Two West Palm Beach (Fla.) Police officers who were ambushed by a suspect at an apartment complex have been selected as the Officers of the Month for July by the National Law Enforcement Officers Memorial Fund.
Officers Rade Momirovich and Covelle Padgett had responded to a shooting at a gas station on March 5, 2012. They arrived to find a man who had been shot in the face and leg. The man said he had fled from the Springbook Commons apartment complex where he had been shot.
The officers headed toward the complex after hearing gunfire from the area. Driving separate marked patrol units, the officers arrived at the complex at Building 5560. Dispatch radioed that the suspect was at that location, but due to poor lighting the officers didn't realize he was lying in wait.
As Officer Momirovich opened his vehicle's door, he immediately came under fire. He returned fire while trapped in the driver's seat, as Officer Padgett moved to a defensive position behind the patrol unit. The gunman fled after he ran out of 9mm handgun ammo.
Officer Momirovich attempted to leave his vehicle to find a defensive position, when the suspect chased him with a large samurai sword. as the suspect closed in, the officer attempted to reload his service weapon. That's when Officer Padgett opened fire, striking and killing the suspect.
During the initial exchange of gunfire, Officer Momirovich has been hit but bullet fragments. A round had struck his police vehicle, sending a fragment into his shoulder. Another fragment struck him on the left side of his ballistic vest.
Both officers have since returned to full duty. Collectively, they have nine years of service with the agency. The Memorial Fund will honor the officers at its annual awards luncheon during National Police Week in May.