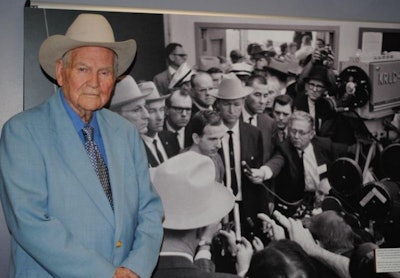 The Dallas Police Department honored retired Det. Jim Leavelle this week for his role in the investigation of the assassination of President Kennedy in 1963.
As one of the lead detectives investigating the Kennedy assassination and the murder of Officer J.D. Tippit on Nov. 22, Leavelle appeared in an iconic photograph of the assassination of suspect Lee Harvey Oswald. Leavelle, wearing a white suit and cowboy hat, was handcuffed to Oswald when Jack Ruby fatally shot Oswald.
Leavelle, who retired in 1975, was honored Tuesday during a ceremony at the Dallas PD's media conference room. The agency's annual Detective of the Year award will now be named in his honor, according to the agency.
At the time, Leavelle was given the assignment to transport Oswald following a press conference at police headquarters announcing his arrest as Kennedy's suspected killer. Leavelle began escorting Oswald to the county jail by taking him to the basement parking area of police headquarters.
Leavelle said that when he saw an armed Ruby approach, he tried unsuccessfully to jerk Oswald behind him to shield him from harm. "You don't stop and think," Leavelle said Tuesday. "You have to react."
Leavelle continues to serve as an agency ambassador and has conducted numerous interviews, events, and speaking engagements related to the investigation of the assassination.