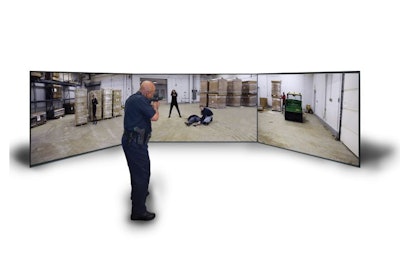 The MILO Range Theater from MILO Range Training Systems provides you with an interactive, multi-screen, use of force simulator with an enhanced field of view, multi-directional threats, and more. Available in 180- and 300-degree configurations, the MILO Range Theater is designed tol surround you for an ultra-immersive training experience. With the increased field of view that the MILO Range Theater offers, your agency can improve trainee realism and offer true to life training scenarios, allowing simultaneous applications of proper tactics.
The MILO Range Theater system features include a complete immersive threat environment incorporating HD video on all screens, CQB, CQM, Low Light/Flashlight, TASER, Lethal, Less than Lethal training, and CGI marksmanship and reactive targeting. You can also convert the system to a multi-lane firing range. Theater also supports Unity and VBS3 military training platforms.
The MILO Range Theater captures live audio and video for later instructor review - helping officers to better analyze a situation and potential threat, and respond accordingly. The system can be operated by a single instructor using either a touchscreen monitor or wireless tablet, significantly reducing the need for instructor resources.
More about MILO Range
MILO Range is a provider of interactive simulation training products. For almost two decades, MILO Range has been proud to serve thousands of public safety and military agencies of all sizes and disciplines in over forty nations. Our main goal is to provide the highest levels of customer support and service to all our current and future customers, and to continually improve and expand our products' capabilities and quality while providing a superior immersive training environment to the men and women who rely on our systems to prepare for the challenges they face now and into the future.
For more information on MILO Range solutions, visit milorange.com