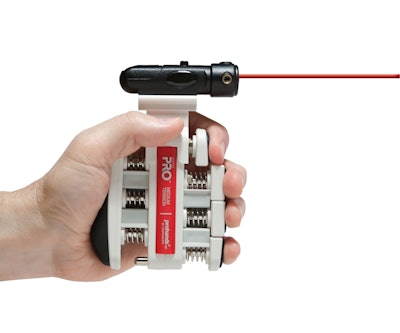 ProHands, the inventors and manufacturers of hand exercisers for athletes, musicians, and rehabilitation have announced the company's first model designed specifically for shooters.
ProHands Tactical is a training tool for handgun professionals designed as an effective way to train for accuracy outside the range. With the laser sight mounted onto the PRO edition, shooters now have the ability to train their entire hand, wrist, and forearm to lock on the target. ProHands Tactical is designed to quickly improve accuracy and control and develop muscle memory, dexterity, endurance, and the strength critical for recoil management, weapon retention, and subject control.
ProHands Tactical may be purchased at Prohands.net or Amazon (SRP $44.95) and is available in four tensions: Light (5 lbs per finger), Medium (7 lbs per finger), Heavy (9 lbs per finger), and X-Heavy (11 lbs per finger). The set includes a patented "PRO" hand exerciser, two removable spring-stabilizer plugs, a mount, a high-quality red laser sight, and general instructions.
The ProHands line of exercisers is different because of their ability to isolate and strengthen each finger individually using patented spring-loaded piston technology. Since 1990, ProHands have been used globally by professional athletes, fitness trainers, strength coaches, musicians, and medical/rehabilitation facilities. More information about ProHands can be found at www.prohands.net.