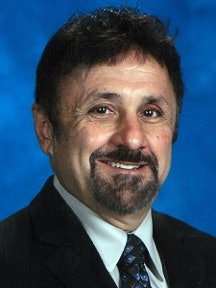 Former Columbine High School principal Frank DeAngelis will provide a keynote address at the National Association of School Resource Officers' (NASRO) school safety conference in Anaheim, CA, in July. DeAngelis was the school's principal on the April 1999 day that two students murdered 12 other students and one teacher in a mass shooting. He will speak on recovering from school tragedies.
NASRO's 26th annual global conference takes place July 10-15 at Disneyland Resort. The conference provides education and networking opportunities to school resource officers (SROs) and other law enforcement officers, as well as school security and safety officials, school board members, administrators, and anyone interested in school safety.
DeAngelis retired in June of 2014 after 35 years at Columbine High School. He now serves as a consultant for safety and emergency management for the Jeffco School District in Colorado. He delivers presentations throughout the United States and Canada regarding recovering from school tragedies.
Former CIA staff member Steve Tarani and Pepperdine University law professor Bernie James will present additional keynotes at the conference. Tarani will speak on "Preventative Defense — Multi-Layered Protection" and James will provide a national school law update.
Last year, nearly 1,300 people attended the annual NASRO school safety conference. It offers attendees an opportunity to complete on-site NASRO training courses at no additional charge; receive in-service training; visit an exhibit hall with the latest in products, technologies, and innovations; and interact with SROs, school administrators, sheriffs, and chiefs of police from throughout the country and world. Available training includes NASRO's Basic SRO Course, ideal for law enforcement officers who are newly assigned to work in schools.
More information about the conference, including a complete agenda and online registration, is available at www.nasro.org/conference/.
NASRO is a nonprofit organization for school-based law enforcement officers, school administrators and school security/safety professionals working as partners to protect students, school faculty and staff, and the schools they attend. NASRO is located in Hoover, Alabama, and was established in 1991. For more information, visit www.nasro.org.