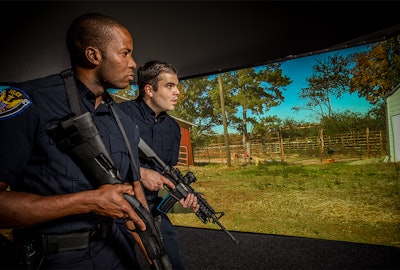 VirTra, makers of immersive use-of-force training simulators, will offer a course on how to train to respond under stress to officers attending the 2019 SHOT Show in Las Vegas later this month. The course is part of the Law Enforcement Education Program (LEEP).
The class titled "How Do We Train the Elephant to Respond Under Stress" will be taught by VirTra's Lon Bartel and is scheduled for Tuesday Jan. 22 from 8:15 a.m. to 10:15 a.m.
The course description says: "'How Do We Train the Elephant to Respond Under Stress?' is a comprehensive and holistic method that highlights the best practices for law enforcement training. This method, which encompasses digital simulation and force-on-force training, holds significant impact for trainers. Training time is a scarce resource in law enforcement and must be effectively utilized. This course discusses maximizing the use of training time and is critical to the successful outcome of our students in law enforcement contacts."
VirTra says: "The split-second decisions required in law enforcement training can be the difference between life and death. How can you be sure that your decisions were in your control? If we consider the metaphor from Dr. Jonathan Haidt in his book "The Happiness Hypothesis," which says that our minds' reaction is similar to an elephant and the elephant rider who thinks they are in charge, it can be hard to tell. From the expertise of VirTra's team, Lon Bartel will dive into the specifics of different learning methodologies and how to better train your subconcious under stress."
LEEP is co-sponsored by the National Shooting Sports Foundation (NSSF) and POLICE. The registration fee is $25, which admits officers to all LEEP classes.
For more information go to http://shotshow.org/leep/