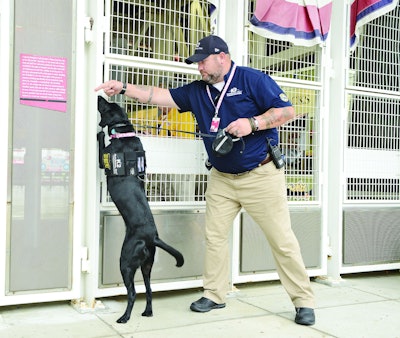 Last May a suicide bomber detonated a bomb vest full of shrapnel inside the foyer of England's Manchester Arena while a crowd was leaving an Ariana Grande concert. The carnage was extreme; 23 concertgoers (and the bomber) were killed, and 800 concertgoers were injured, 112 of them severely enough to be hospitalized.
The Manchester Arena attack led to an increase in security at concerts and sports venues around the United States and throughout the United Kingdom. It also led to demand for a new type of explosives detection dog, one that can trail a person carrying or wearing explosives in a crowd.
"The Grande concert bombing taught everybody we need to do something for the crowds. We can search a venue all day long, but it's that 65,000 people bringing in coolers and backpacks and stuff into a stadium that is the unknown," says retired law enforcement K-9 handler Karl Smith.
According to Smith, searches by explosive detection dogs have until recently covered primarily static objects. "We checked trash cans, cars, desks, closets, and things like that," he says. "Now we have developed a dog that's capable of finding the odor of explosives and trailing that odor on a moving object, including people."
That may not sound like a complicated capability for a K-9, but experts say it's one thing for a dog to find planted explosives in a building, which are giving off steady olfactory clues to their presence, and another for that same dog to follow the scent of the explosives through a crowd of moving people. "The dogs were not trained to do that," says Smith, program manager for K2 Solutions. "They did not have a recollection of what they were supposed to do if they found that thing that was here and then it's gone. They needed to know how to put that two and two together of it's here, it's gone, and now I need to find it."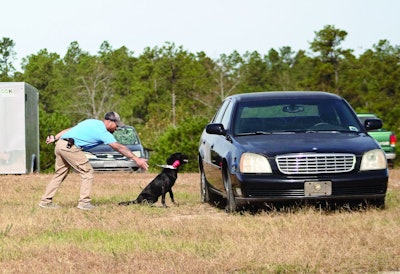 K2 Solutions is one of the nation's largest suppliers of explosives detection dogs. The North Carolina-based company has trademarked its Person-Borne Explosives Detection Dogs. The term means the dog can detect explosives being carried on the body of a moving person. The company also provides dogs for patrol, corrections, narcotics, and security operations.
Early Training
Smith says all of K2's explosive detection and multipurpose dogs are provided by select breeders or bred at the company's Jackson Springs, NC, facility. "We start training the puppies at nine, 10, or 11 weeks old, and build their capabilities from the ground up," he says.
Much of the training in this early phase focuses on socialization—getting the dogs to "play nice" with other animals and to bond with humans—and introduction to a variety of environments. Part of that environmental training involves exposing the dogs to a variety of surfaces that they will need to walk on once they go operational as law enforcement and security K-9s. For example, one of the training buildings at K2 includes a room where puppies get used to walking on linoleum, tile, wood, carpet, cement, and a variety of rugs. The young puppies are also trained to navigate stairs, which can be a challenge with some dogs.
Throughout the training process at K2, the health of the dogs is monitored. As they are being raised to maturity and trained, K2's veterinary staff, including the company's full-time vet, makes sure their medical needs are met.
Once the dogs grow out of their early puppy phase, they are evaluated for their prey drive. Smith explains that for the dog to be an effective law enforcement K-9 it has to learn to hunt. "Their job will be all about hunting, whether it's explosives, narcotics, or cellphones." Some of the dogs trained at K2 will also be hunting people, as multipurpose patrol K-9s. K2 trains and delivers a wide variety of dogs for its clients, including Belgian Malinois, German Shepherds, hybrid Mal-shepherds, golden retrievers, and Labrador retrievers.
Floppy Ears
But much of the company's K-9 work now involves Labs. Labrador retrievers are in demand for explosive detection dogs, Smith says. The reason Labs are well suited to explosion detection is they have a strong desire to hunt, they bond well with their handlers, and they offer an attribute that no pointy-eared dog can—people don't freak out around them.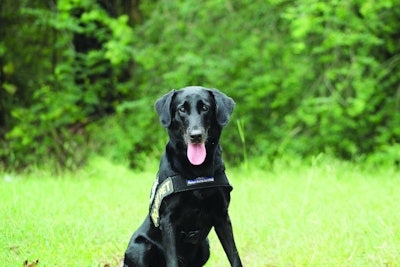 "Labs are a really good choice for this job, and they are good at it," says Smith. "People see a shepherd or a Malinois, and the first thing they think is that dog is going to bite me; even some cops think that. But you bring out a Lab and people think, 'Aww, look at the puppy.' Most people don't try to avoid a Lab because they don't see it as a threat. They see that nice fluffy dog with the floppy ears and they walk right by it, giving the dog a closer odor source and a better chance of detecting the odors you are trying to detect."
According to Smith another benefit of working Labs for explosive detection in places like airports, concert halls, and sporting venues is they are great ambassadors for the agencies that use them. "It's pretty good PR," says Smith, who handled explosive detection Labs when he worked on the Charleston bomb squad. "People are a little more open to the officer. People will tell the officer, 'That's a good looking dog you have there.' There's a lot more stress with a shepherd or a Mal. People can be hostile toward those dogs."
The first phase of the specialized training for the Person-Borne Explosive Detection Dogs produced by K2 is static explosive detection. Some of the dogs excel in their explosive detection capabilities and prey drive, and they move on to become Person-Borne Explosive Detection Dogs. Others prove to be more suited to static explosive detection, which is still in high demand. "It takes extraordinary drive for a dog to follow an odor that is moving. The dog that has that is a special dog," Smith says.
Building a Team
Person-borne explosive detection is not just about the dog. It's about the dog and the handler working as a team. The final stage of K2's program is eight weeks of training for the handler.
Smith says the first step of this training is matching the dog with the handler. K2's retired law enforcement and military experts study the backgrounds and experience of the handlers before assigning them dogs for the training. "That dog will be with the handler more than the handler is with his or her spouse, so it's important that they are a fit. We need to know if the handler is laid back or the kind of officer who runs three miles every day before breakfast," Smith says.
Handler experience is critical in that equation, even for the Labs used as Person-Borne Explosive Detection Dogs. Smith says it's a myth that all Labs are calm dogs and not hyper like some of their pointy-eared cousins can be. "I have seen some that are so energetic that they are Mals in Labrador bodies. They're like golf balls teed off in a tile bathroom, just go, go, go. You can't give a dog like that to a green handler unless they have a strong background working with dogs outside of their law enforcement assignments."
Not only are the dogs and handlers paired during the eight-week final training program, it's during this period that the dog's skills are honed. Smith says it's important for the handler to finalize the dog's training. It builds a strong bond between the dog and the handler, he explains. "The dog needs to trust the handler for this to work. It's truly a team effort. The handler has to lead the dog to the right location for it to find the explosive."
One of the things handlers learn in this final training is how to read what the dog is thinking. "The handler needs to learn to recognize a change of behavior (COB). A COB is the dog indicating that it is on something that it is trained to detect. The behavior change could be something as minute as an increased wag of the tail or you may notice the dog inhaling differently. You can actually hear their nostrils going thump, thump, thump. That's their way of closing off their nostrils to keep from dispersing the air in front of them."
Smith says that even experienced handlers are stunned by the detection skills of Person-Borne Explosive Detection Dogs. Often they tell the K2 trainer, "I didn't know a dog could do that," he says. "The capabilities of these dogs far outweighs what we can even determine that they can detect. We don't have any instruments that can detect what a dog can detect. Yet we can prove that this works."