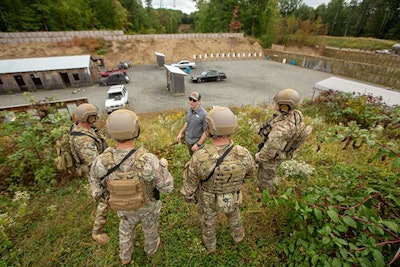 SIG Sauer Academy, provider of high-quality firearms instruction and tactical training, has announced the award of a General Services Administration (GSA) Schedule 84 contract for firearms and tactical training.
GSA Schedule 84 provides contracted, cost-effective services for the military, government agencies, and municipalities. SIG Sauer Academy courses, offered in conjunction with Trident LLC, are featured under special items numbers (SINs) 426 1A Miscellaneous Personal Equipment, and 426 6 Law Enforcement and Security Training.
Ron Cohen, president and CEO of SIG Sauer Inc., began, "SIG Sauer is proud to offer world-class training at the SIG Sauer Academy from elite instructors, including former Navy SEALs, US Army Special Forces, and SWAT, whose credentials in military and law enforcement are unmatched. This GSA award is a new opportunity, for those with access to Schedule 84, to train with the best, and we are looking forward to partnering with a wide range of government and law enforcement agencies through this award."
The SIG Sauer Academy Training Courses being offered through GSA Schedule 84 can be accessed at gsa.gov or through a direct link accessing the site on the homepage at sigsaueracademy.com.
"This is an exciting development for SIG Sauer to be able to expand the reach of the SIG Sauer Academy, and provide new opportunities to government agencies and municipalities for firearms and tactical training," concluded Cohen.