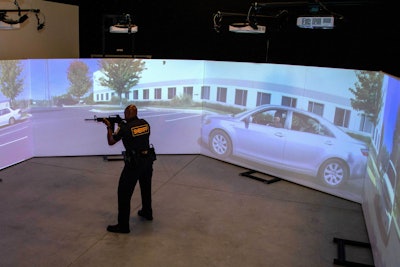 The Georgia Public Safety Training Center and its Georgia Police Academy have chosen Meggitt Training Systems' five-screen, 300-degree FATS 300LE advanced simulation system and BlueFire wireless weapons to help law enforcement officers understand complex situations, then be able to de-escalate or make the right use-of-force option. GPSTC's Police Academy, which trains officers from more than 100 Georgia agencies, believes relevant scenarios and realistic weapons will dramatically improve split-second decision-making.
"The GPSTC strives to provide the best training options to our students that will prepare them for situations they will face while on patrol and answering calls for service across the state," says Bruce Stanford, division director for the Georgia Police Academy. "For certain, every possibility or situation cannot be predicted; we do however want to place officers into situations that are tense, uncertain and rapidly evolving. These situations require not only good decision-making skills, but also the tactile skills necessary to either diffuse a situation or eliminate a threat."
"The Meggitt FATS 300LE provides the most realistic weapons platforms, response driven scenarios, and feedback capabilities of any system that we have evaluated," added Stanford. "Additionally, the technical support and customer service will allow us to operate with little or no downtime in the event of a system malfunction."
To immerse the trainee, the simulator projects high-definition imagery on all five screens. The trainee then gets exposed to a myriad of challenges encountered on duty. Meggitt says this provides a genuine immersive experience that highlights realistic conflict situations and awareness, while BlueFire weapons match the form, function and feel of equipment officers are likely to use. Each student will use the FATS 300 for approximately 20 hours during most GPSTC courses.
"GPSTC chose Meggitt Training Systems because of our superior product quality, continuously innovative systems, as well as responsive customer service based here in Georgia," said Matt Cunningham, director of virtual systems sales for Meggitt. "They specifically selected the FATS 300LE and BlueFire weapons to upgrade their systems for the most realistic and immersive training experience."
The FATS 300LE is one of Meggitt's newest offerings. Immersion is provided via five borderless 150"x84" flat screens arranged in a hexagonal format, 5.1 audio, plus sounds in any direction added by the operator for increased realism. The system also has ultra-short-throw projectors that allow the trainee unprecedented freedom of movement within the training area, all while maintaining a smaller footprint than rear-projection systems. The system, which utilizes the same high-fidelity ballistic engine validated by the U.S. Army and other military customers, will be installed in the Academy's new facility scheduled to open in September 2019.
For more information, visit www.MeggittTrainingSystems.com.