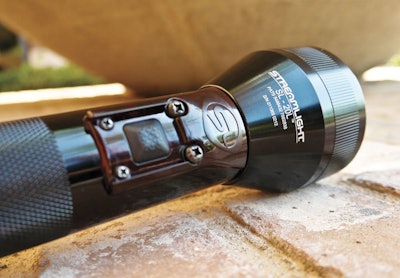 Streamlight has been making the "gold standard" SL-20 flashlight for years. It is probably safe to say this light is almost as synonymous with police work as handcuffs and black-and-white cars. I have one and, like most cops, mine has accompanied me on more calls than I can count. I've replaced the battery stick, bulb, switch, and seals. The finish isn't quite as pretty as it used to be, but it is every bit as dependable as it was when I bought it eight years ago.
A few years back Streamlight came out with a polymer version that had three LEDs in addition to the incandescent lamp. Most of us saw it as a slight improvement over the original but not enough to justify buying a whole new set-up. Cops love new gear, but if we're going to spend our hard-earned money, it better be well worth it. In my opinion the new Streamlight SL-20L is definitely worth it. Everything that was great about the original is still here. Everything we wished it did better? Yeah, that's here now, too.
Historically, the biggest hurdle with LED technology has been getting the "candela" or "candlepower" to compare to that of an incandescent. LEDs generally put out high "lumens," meaning they are really bright at close distances, but not as good at casting light in the distance. Streamlight figured out how to do both with this one.
The SL-20L is an anodized aluminum, rechargeable light with a polycarbonate lens and a single C4 LED. It has a large, simple rubberized on/off switch on the side near the front bezel. The company claims 350 lumens and 60,000 candela on the highest of three brightness settings. This translates to a wide, bright white beam that will illuminate objects out to 490 meters. I stood in my driveway and was able to clearly read the license plate of a vehicle five houses away; pretty impressive for a handheld. There's also a strobe feature for use as a defensive or signal light.
The battery life is claimed at two hours on the brightest setting. I charged the light for the recommended 24 hours when I received it, and it is still going strong after a few nights of use. I prefer the highest setting, even for up-close use, but have tried the other settings as well and even the dimmest of the three puts out plenty of working light.
When it is time to recharge, the SL-20L is fully compatible with the original SL-20 chargers. This is good news for those of us with the original as we can now upgrade to the new technology without having to buy new chargers. I can see this light having a spot in my bag of gear for a long time and would definitely recommend it to anyone.
Streamlight SL-20L Flashlight Specs:
Weight: 1.7 pounds
Length: 13.1 inches
Battery: NiCd or NiMH rechargeable up to 1,000 times; fully recharges in 7 hours
Technology: C4 LED
Modes: High, medium, low, and strobe
Peak Beam Intensity: High 350 lumens, medium 160 lumens, low 10 lumens
Runtime: High 2 hours, medium 4 hours, low 50 hours, strobe 4 hours
Construction: Anodized machined aluminum with knurled barrel for a sure grip, polycarbonate lens with scratch-resistant coating
Warranty: Limited lifetime
Price: $223
A.J. George is a motor officer and firearms instructor for the Scottsdale (Ariz.) Police Department.