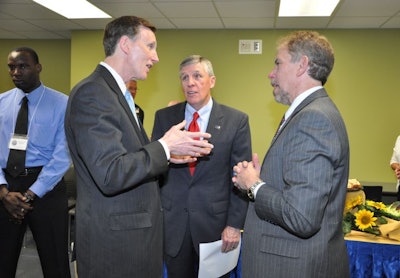 Indiana's Vincennes University unveiled its Homeland Security and Public Safety Building with one of the top forensics labs in the state during an April dedication.
The building's lab offers crime-fighting technology, a second lab for emergency medical services training, an emergency response command center, classrooms, and space for faculty and administrative personnel.
John S. Pistole, administrator of the U.S. Transportation Security Administration (TSA), told students to "pursue excellence in everything you do," during an April 11 dedication.
"I never dreamed that I would become, at one point, deputy director of the FBI or the head of TSA," Pistole said. "I am a hometown kid from Anderson. It just goes to show that you never know what might happen."
Anna Miller, chair of the university's Law and Safety Department, said she has looked forward to the dedication of the new facility, following a $2 million dedication.
"We have a brand new facility with the newest and latest technology, the newest equipment in our forensic and EMS areas where we can really go beyond teaching theory and engage our students in all the practical aspects of what each of these programs offer," Miller said.
With more than 500 students, Miller said the eight programs in the building are some of the largest and fastest growing programs at the university. She said employment prospects for graduates are diverse and in demand by a variety of public and private employers.
Clark Wakeman, a senior who will earn his bachelor's degree in Homeland Security later this month, said he is in the last two steps in the selection process to become an Indiana State Police officer. He said the new facility complements the quality of instruction in his program.
"The instructors are phenomenal," Wakeman said. "They are all retired out of their fields—state troopers, police, and FBI agent Lou Caprino—so the knowledge that they share with us is just incredible. It is a really hands-on experience."
The facility houses the university's baccalaureate program in Homeland Security and Public Safety, as well as seven associate-degree programs in law enforcement, conservation law enforcement, emergency medical services, fire science and safety technology, loss prevention, paralegal, and emergency management and planning.