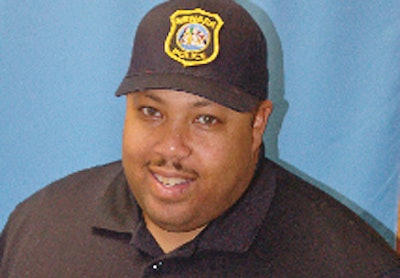 Det. Brian Logan of the Newark (N.J.) Police Department works the night shift verifying tips in a Crime Stoppers van so he can spend his afternoons coaching his local high school football team. That way he has two ways to reach out to the young people of his neighborhood and help them make good decisions. For dedication to his job and his community, Logan has been named the October Officer of the Month by the National Law Enforcement Officers Memorial Fund.
Logan grew up in Newark and credits both his father, who was a cop before him, and his high school football coach with helping to keep him on the right path. "Well, I think football was a tool for me as far as my education. And then I think I followed in my father's steps as a police officer," Logan says. "So football kind of raised me up, taught me a lot of lessons about life, and then policing brings a lot of discipline. When you put both of them together, it's something that I wanted to offer back to the kids in my neighborhood."
When he played on his high school football team, Logan's coach told him, "Go away to college, get that piece of paper, and bring something positive back to your neighborhood." He took those words to heart, and he relays the same message to the students he coaches. He can point out all of the street corners where students he's worked with have been shot and killed. But he's not deterred.
Despite the violence and other problems there, Logan never thought about leaving his town for good. "Newark is my home," he says. "I love where I live. This is what I know, this is who I am. I've always had the desire to be here."
While he's worked multiple details, Logan says he prefers the flexibility of his current assignment, and the opportunity to interact directly with community members providing tips through Crime Stoppers. He's thankful that the Newark Police Department has been so supportive of his dual passions, and is particularly grateful to Chief Sheilah A. Coley and Police Director Samuel A. DeMaio for their help.
He scoffs at the idea of choosing one of his two careers. "They go hand in hand," he says. "What I do is crime prevention. Keeping kids off the street, steering them in the right direction, that's crime prevention."
Logan has children of his own, but he's happy to serve as a father figure to the students he coaches, often inviting them to share meals and live in his house when they have nowhere else to go. And all of his players can be found crowded around his TV watching football games on the weekends. They're part of an extended family.
It must be difficult to make time for each other, but Logan's family members know the score and accept his deep devotion to the kids he works with. "When I met my wife I was doing the same thing. They understand that this is what I do, this is a part of me," he says.
Now Logan isn't the only one in Newark who holds this philosophy, however. He has also recruited other local police officers to help coach his team, and expand their collective reach. The detective benefited from police officers who took time to be his Little League coaches when he was a kid. Now he has had the opportunity to help those he coaches grow up to realize their dreams. He recently found out that one of his former players was picked for the NFL draft. It's a "win-win," Logan says. But he wishes more people realized how rewarding showing an interest in local kids can be for everyone involved.
"Everybody's neighborhood would be a better, safer place if they got the opportunity to interact with the children in their neighborhood," Logan says. "It helps move them in a positive direction. It's a good thing for the community. Somebody gave it to me so I'm giving it back."