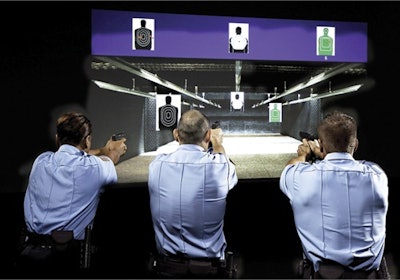 Last September the Suwanee (Ga.) Police Department opened its new and improved training facility. Created using Meggitt Training Systems' products and design assistance, the center is complete with a four-lane indoor shooting range, an academic classroom, and a training room, which also serves as a virtual firearms trainer.
Finding a nearby space for its law enforcement officers to train and practice their firearms skills was no easy feat for the suburban Atlanta department. But it was desperately needed. Officers were driving more than 20 miles to reach the closest range. So command staff made the decision to invest in equipment and a facility redesign in order to turn Suwanee PD's substation into a self-sufficient indoor training center.
"We had a serious need for accessibility to a space that would give our officers the ability to conduct firearms and use-of-force training," says Chief Mike Jones of Suwanee PD. "And even more so, I didn't just want to have officers shooting rounds, I wanted them to train and be able to move and really feel like they're in a real live situation."
Accordingly, the Suwanee PD contacted Meggitt and they collaborated in developing one of the nation's most advanced law enforcement firearms and use-of-force training facilities.
Simulated Fire
One of the biggest priorities for the Suwanee PD was being able to provide its officers—especially problem shooters—with a more hands-on training space that could be used frequently. With a limited budget and because of the staggering cost of ammo, the department knew that it would be too expensive to utilize a live firing range for remedial officer instruction, so a simulated training facility was the next best option.
Department firearms instructors also realized that simulated firearms might be more beneficial for the remedial shooters than even live fire, regardless of cost.
According to Winn Hines, director of law enforcement virtual sales with Meggitt Training Systems, live-firing can also be intimidating for less experienced law enforcement officers. A simulation room provides a more controlled environment to train, work with instructors, and build confidence. There are no live rounds, just simulated attacks and weapons.
"No one will ever tell you that they get enough training for those split-second decisions you have to make as an officer," says Hines. "So by having a simulator co-located with the live fire range, you're making the most efficient use of those training hours."
Operated by Meggitt's FATS L7 system, which is a computer-based law enforcement training stimulator, the simulator range provides both marksmanship and judgmental training. As a part of the system, there are tether-less BlueFire weapons, including simulations of a Glock 17 pistol, an M4 carbine, an OC spray canister, and a TASER. The simulated weapons communicate with the system via Bluetooth technology.
In addition, lasers and sensors within the weapons allow the system to track every movement, giving instructors the information they need for feedback and analysis. This technology allows the instructors to see exactly where a weapon was pointed as well as trigger squeeze, weapon cant, and grip or buttplate pressure.
"To me, as a firearms instructor, the most important part is seeing where and when an officer jerked the trigger or anticipated the shot," says Capt. Cass Mooney of the Suwanee PD. "It's great to be able to help the students understand what they're doing wrong in real time. It helps drive the lesson home."
The instructor controls the program with a laptop, desktop, or tablet. "Having a tablet is beneficial because you can move around instead of calling out from the control booth. You can literally stand right next to the students and observe their form while activating the targets and controlling the situation in real time," says Mooney.
The simulation area is dual-functioning and also serves as a classroom for defensive drills. The FATS system is suspended from the ceiling so officers can engage in hands-on training on the ground.
"The way Meggitt designed the FATS machine in that room to be out of the way really came from the fact that we were working on a budget," says Chief Jones. "It's a big space and we had to find a way to use it economically."
Judgment and Marksmanship
There are two modes of operation for the FATS L7: judgmental training and marksmanship training. Trainees can engage in hundreds of scenarios that are projected onto a screen with the system. Whether it's verbal commands, hand gestures, less-lethal weapons, or deadly force, an officer can train for each option.
"Instead of spending a lot of funds on our ammunition, we take shooters to the virtual room," says Jones. "Once the instructor has built up the students' confidence, they go directly across the hall, back into the live range, and they qualify immediately."
Meggitt's marksmanship program is called Lanes. It employs technology that has been developed for international and domestic military customers such as the U.S. Marine Corps and the United Kingdom's Ministry of Defense. All four lanes of Suwanee's virtual shooting range can be converted into simulated marksmanship courses. The instructor can put up targets and create a specialized course. The Tri-Star Target that Georgia agencies use for firearms qualification is preloaded into Suwanee's system.
Live Fire
The Suwanee PD's indoor live fire shooting range features four lanes with clear-view shooting stalls. Each lane employs Meggitt's latest wireless target retrieval system, XWT, which features an internal DC motor drive and rechargeable battery that allows for 360-degree target turning and easy wireless operation through a touch-screen controller.
The system eliminates the need to replace frayed cables or to continually adjust the tension of cables and pulleys found on traditional target retrievers.
"The main difference here is typically there are cables in a system like this, but ours is wireless," says Brian Gokey, live fire range specialist with Meggitt Training Systems. "With indoor ranges, cables can get damaged and then time is lost and the whole lane is down. But with wireless, there are no cables and there's a home station where the unit charges when it's not in use."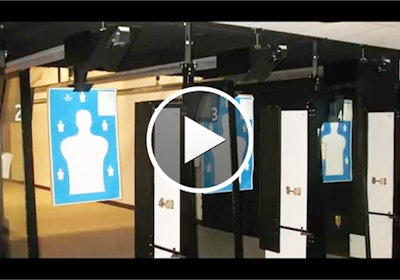 VIDEO: Meggitt Installs Ga. Agency's Range
This range also features Meggitt's Running Man Targets, which are single or dual engaged moving targets that run across the range as opposed to just up and down.
Currently, the Suwanee Police Department has its officers practice at the live firing range twice a month to work on their skills. But before the range was designed, Jones had one prevailing concern.
"We talked to Meggitt because I wanted our officers to be able to have tactical live fire within 15 yards of the bullet trap," Jones says.
Meggitt designed the range specifically to meet Suwanee's needs and now officers can fire within 15 yards, thanks to Meggitt's GranTrap, or granulated rubber bullet traps. The GranTrap utilizes granulated rubber material to absorb incoming rounds. The bullet impacts the soft media and is captured predominantly intact. This minimizes airborne lead dust, averts backsplatter and ricochet, and minimizes noise. The cleaner end result allows for better bullet recovery and therefore recycling. Within the tactical area, combat walls and complete ballistic protection for the ceiling are incorporated.
According to Mooney, the facility has plans to install a moveable doorway on wheels so officers can practice entering a room using live fire.
"We want to give our officers the kind of movement you don't normally see on a conventional fixed firing line indoor range," Mooney says.
Environmental Concerns
According to Hines, with the way Atlanta is rapidly expanding, development is encroaching on the space that was once reserved for outdoor shooting ranges. Additionally, more shooting ranges are running into noise complaints from surrounding communities, which have led to limited hours of operation.
"With an indoor range, there's no sound problem, and you can make it whatever time of day you want regardless of the atmosphere outside by controlling the lighting situation," says Hines.
However, having a strictly indoor range comes with a problem of its own: lead exposure.
"Lead is the number one issue with indoor ranges," says Gokey. "But lead isn't something to be scared of; it just needs to be managed correctly from the beginning."
OSHA sets legal limits for a person's blood level content of lead; therefore, instructors must be clinically tested every six months.
"Instructors work the range for eight hours a day, so you can see how that would be a potential health hazard," says Mooney.
For Suwanee's training facility, The City of Suwanee partnered with Hogan Construction to design and install an above par ventilation system. The air is filtered in three stages and then recirculated throughout the range. At Suwanee, about 75% of the air is recirculated and 25% is newly introduced.
"You save money by recirculating and it's safe air because there's a lot of filtration involved," says Gokey. "If the ventilation is working correctly, you should never notice a cloud of smoke or anything from the firings."
The ventilation is coming from the inlet of the room, which is behind the shooter. There's a wall of air moving down the range and being vacuumed by the exhaust duct located by the bullet trap. The system is designed to give anywhere from 70 to 90 cubic feet per minute past the shooter.
Additionally, the rubber bullet trap is eco-friendly, made from recycled rubber. Rubber traps generate 95% less lead dust compared to steel bullet traps. All excess airborne lead is captured by the filters.
Related:
14 Ways To Make Training Safer
The Tragedy of Training Accidents
Smaller Departments Require Greater Training Needs
Training Sims Help Officers Use Appropriate Force