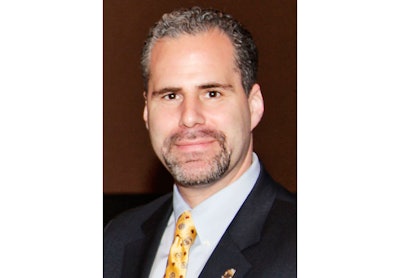 In June, I wrote a letter to Veterans Affairs (VA) Secretary Eric K. Shinseki opposing his department's intention to downgrade the pay level of VA police officers to the same level as that of a "Miscellaneous Clerk and Assistant" (per a 2013 VA Public Affairs release).
Earlier this year the VA announced its intention to "reclassify" 17 occupational series, including its police officers and special agents in the 080, 083, and 1811 grade series. While the VA asserts this announcement is being driven at the request of the Office of Personnel Management, it seems like the VA is feeding the officers and agents to the administrative lions to devour. The law enforcement guardians who protect our wounded warriors in the VA facilities deserve better.
In Secretary Shinseki's recent message released by the Office of Public and Intergovernmental Affairs, he stated in part that "We will not compromise the safety, security, or well-being of veterans or our employees..." I have to ask, how does downgrading the pay of our law enforcement guardians accomplish this noble commitment?
FLEOA opposes this plan, which will eradicate a professional law enforcement work force and have hall monitors protecting our disabled veterans. Without question, the VA law enforcement contingent is comprised of dedicated, well-trained professional officers and agents. While our association understands the budget challenges our country faces due to the across the board agency cuts, the VA was exempted from sequestration. So how does this result in the downgrading of an officer's pay to that of the level of a clerk?
Recognizing the possible desire of terrorist groups to target VA facilities where our warriors are recovering, it is critical that the VA continues to employ top-notch law enforcement officers. Our wounded warriors deserve the best protection the VA can provide, and this will not be sustained by paying law enforcement officers a miscellaneous clerk's salary. These same law enforcement professionals comprise the Secretary's security detail, and the Secretary should continue to be protected by professionals. By belittling the value of VA police officers' service, and lowering their future earning potential, the VA will be diminishing the level of its officers' excellence by driving away committed law enforcement professionals.
It's not like the VA police officers aren't distinguishing themselves as peace officers. Last year VA police responded to 23,749 disturbances, including 13,683 disorderly conduct incidents, 3,577 disturbing the peace incidents, and 2,582 trespassing incidents. It's important to note that quick intervention by these officers likely prevented these crimes from graduating into more significant and violent incidents. Additionally, VA police responded to and successfully resolved 547 patient threats, 66 bomb threats, and worked closely with the Office of the Inspector General Special Agents to save the government substantial money from fraud.
VA officers and agents graduate from an accredited law enforcement academy, regularly qualify with their government-issued firearms, and are subjected to strict physical fitness standards. They are not hall monitors armed with gumball machine whistles. So they should be paid on a commensurate level to their federal law enforcement counterparts. It's sad to note that this pay downgrade would put the VA uniformed officer on a 2003 starting pay level for similar federal officers, i.e., Supreme Court Police, Pentagon Force Protection, U.S. Mint Police, and the Federal Protective Service (GAO 2003 report: Federal Uniformed Police).
According to the National Center for Veterans Analysis and Statistics May 2012 report, there has been a 46% increase in disabled veterans receiving treatment from the VA since 1990. Our disabled veteran population is increasing, so why would the VA seek to diminish their security by lowering the level of pay and resources for those who guard them? It will be an unforgivable disservice to our VA officers and agents, as well as our veterans, to allow VA law enforcement to be denigrated to the pay level of a miscellaneous clerk.
At press time, I was still awaiting a reply from Secretary Shinseki. Whether I ever hear from him or not, I would like to acknowledge the outstanding service provided by our VA law enforcement officers nationwide.