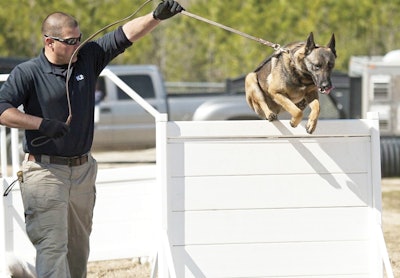 If law enforcement agencies recruited their four-legged partners through help wanted ads, the ads might read something like this:
"Canines wanted for local police department. Ideal candidates must be goal oriented, driven, highly motivated, and enjoy working outside. The preferred dog must have a strong work ethic and the desire to serve. Outstanding physical condition is essential. Experience is not required, as training will be provided."
The decision to take a dog and transform it into a highly trained law enforcement animal isn't one to be taken lightly. It is a commitment, with year-round responsibility—both on and off-duty—for the dog and the humans who work with the dog.
Since dogs can't answer help wanted ads, it is up to professional evaluators, law enforcement agencies, and handlers to assess, select, and train the right canine for the job.
Assessment and Selection
A rigorous assessment and selection process is the foundation of all successful working K-9 programs. Although every canine is unique, benchmarks can be used to assess behavioral, psychological, and physical soundness of the animal and its suitability to perform the job required. A dog's behavioral soundness, sociability, and alertness can be tested by analyzing its ability to remain stable in new environments as well as its reactions when approached by unknown persons.
If the canine passes initial behavioral tests, a critical next step is to evaluate its overall physical health. A quick review of the canine's movement can reveal signs of discomfort and potential problem areas that can be brought up for discussion with the vendor's veterinarian. Finally, the canine's drive should be reviewed. Hunt and retrieve, agility, and adaptive learning tests can be performed to determine if the level of drive is sufficient to become a successful law enforcement K-9.
After the initial assessment of the dogs, the "art" of selection begins. Each evaluator responsible for conducting the assessment and selection process brings a different eye and feel for how each dog will work with law enforcement officers and integrate into an agency. While one animal may be best suited for tracking, another may be best suited for single or dual detection. It is of equal importance at this stage to understand that not every dog is suited to police work. Even if a dog possesses the basic characteristics and behavioral, physical, and psychological makeup needed for the job, that dog may not be cut out for K-9 duty.
Basic Training
The initial training of a law enforcement K-9 takes approximately 90 days. Those that are new to a training program are often called "green" and must go through initial training that includes simple obedience, commands, and agility. This program is similar to the U.S. military's basic training, and just like a young soldier, sailor, airman, or Marine goes on to specialize in a particular skill or occupation after "basic," each dog in a law enforcement K-9 training program goes on to more advanced education once it masters basic fundamentals.
Potential law enforcement K-9 skill specialty areas include: narcotics detection, explosives detection, apprehension, and tracking/trailing. It is common for dogs to be trained in multiple specialties; however, a single K-9 will not be trained to detect both narcotics and explosives. The reason for this is if a K-9 indicated on a backpack, the officer would have no way of knowing if the backpack was full of cocaine or C-4.
Becoming a K-9 Team
When you are selected by your department to handle a K-9, you must begin the assessment and selection process to find a four-legged partner.
First, you need to choose a reputable vendor who will help pair you with the right dog. Once paired, you must learn how to work the dog in order to become a K-9 team.
Analyzing a Vendor
A reputable vendor will work closely with an agency before, during, and after the sale to understand the requirements of the department, as well as the handler's personality and capabilities. Consequently, it's critical that you find the right vendor.
Before selecting a vendor, consider the following guidance:
Talk to fellow K-9 professionals. But remember that even though testimonials from other officers are always interesting, you should take them with a grain of salt. Talk to more than one department or handler. See if they agree on certain vendors or if their criticisms of providers coincide. The Internet can also be a great research tool; however, it should not be your sole source. Look for a vendor who has demonstrated experience training and placing police canines.
Demand quick response to an inquiry. How quickly a vendor responds to your request for information can be a good indicator of how that vendor will handle customer service. What the vendor tells you about its services and technical expertise will provide you with a good picture of its experience and professionalism. Does the vendor truly understand your exact needs?
Make some kennel visits. Visiting a prospective vendor is vital. When you get there, take a good look at the kennel, the grounds, and the offices. Are they clean? Are the dogs provided with quality care? Are the training grounds adequate? If the vendor is reluctant to show you around the entire facility, be ready to walk away.
Communicate your requirements. Ensure the vendor understands exactly what capabilities you need. Ask to see several dogs, not just the ones the vendor thinks best fit your requirements. By doing this, you will know the animals you are being shown are not "demo dogs" that are used just for show.
Ask for documentation. Ask for the canine's import papers, breeding paperwork, training, and health records. Get all guarantees and warranties on the canine's health and training in writing. Do not accept assurances that all the papers are in order; read and understand everything before you sign on the dotted line.
Once a vendor is selected, make sure the vendor's staff will work closely with you to ensure you are paired with the right dog. The vendor will take into consideration your physical characteristics, personality, and home life and compare that with the dog's personality, trainability, and physical characteristics. Since this canine will become a permanent part of your life—on and off-duty—the right pairing is essential for success.
Choosing a vendor whose services include comprehensive training for an officer and the dog as well as the opportunity to certify with a nationally recognized association provides the K-9 team with the complete package. Even if certifications are not required by the state, maintaining a certification shows that your agency is in compliance with a professional standard.
K-9 Team Training
Generally speaking, K-9 team training lasts from four to six weeks, depending on which specialties are being taught. While it is typical for training to take place at the vendor's location, some vendors may offer training at your location, eliminating the need for travel. At any time during training, issues will be addressed as they are identified. The canine team can expect the following during training:
Week 1: Introduction to K-9 Handling
During the first week, most courses involve dedicated classroom time. Topics covered in the classroom include: basic care and grooming, safety issues, legal issues, physical conditioning, and first aid. It is ideal for the canine first aid portion of the course to be taught by a veterinarian or veterinary technician.
Training starts with the basics. A canine that is not "green" will already have been through the majority of these basics; however, it is important to cover them again with the officer.
During the first week, your team will cover: obedience, agility, and basic detection. As you progress, capabilities like tracking and trailing, evidence and article search, and basic apprehension are introduced.
Week 2: Advanced Techniques
During the second week, training becomes more advanced. You will be introduced to building and area searches and will incorporate police tactics as well as the standard operating procedures of your agency.
Week 3: Real-World Scenarios
The third week of training will take you into real-world scenario training. Multiple training areas and more difficult hides expose you and your canine to real-world scenarios. At the completion of the week, you will have a basic understanding of canine deployment and police tactics with a canine.
Week 4: Taking It to the Next Level
During week four, you and your canine will fine-tune the skills learned in all required capabilities. Videos taken during training are extremely helpful in identifying areas in which the team excels and areas that need more work, which will also be covered during the final week.
If the training course includes certification, this is when the K-9 team will start running simulated certifications in preparation for the actual testing. For those teams obtaining certification, training will last an additional two or three days.
The length of each training course is determined by the level of training needed for your canine's specialty and the agency's budget.
It's also important to remember that for K-9 teams, training does not end when the course is over. Training is a lifelong commitment and there is always room for improvement and advancement.
Advanced training keeps a K-9 team ready for any situation that may present itself. Additionally, K-9 teams that have been certified will be required to renew their certification annually.
On the Job
Every new and experienced K-9 team can expect a high volume of assistance calls, not only from its agency, but those in surrounding areas as well. You and your K-9 will assist in locating missing persons, vehicle stops, and felony apprehensions, just to name a few.
And expect to go to work fast. A mere 11 days after graduating from K2 Solutions' Multi-Purpose Handler's Course, Sgt. Donald Jenks and K-9 Intra of the Anson County (N.C.) Sheriff's Office were called to assist the U.S. Marshals in the search for Randy Scott Prevatte.
Prevatte, 42, was a federal fugitive wanted on a probation violations warrant. After several hours of tracking Prevatte through the woods, K-9 Intra found her suspect, apprehended him, and held him to the ground until officials were able to make the arrest. In total, Intra tracked the suspect for seven hours and for more than 18 miles.
Jenks and K-9 Intra are an example of a canine team who were appropriately paired, went through the training, and answered the call to duty. They continue to work as a valuable asset for the Anson County SO.
Mark Fox has more than a decade of experience in K-9 training and is currently the law enforcement instructor and multipurpose canine senior trainer at K2 Solutions Inc., in Southern Pines, North Carolina.