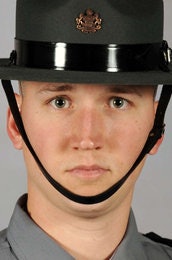 More than four months after rookie State Trooper David Kedra was killed in a Montgomery County training exercise, authorities on Tuesday identified and charged his shooter - an experienced instructor - with reckless endangerment.
The charged officer, who is a 20-year veteran of the state police and has been a firearms instructor for over a decade, could face up to 10 years in prison.
The grand jury report that recommended the charges also delivered answers to many of the questions that have surrounded Kedra's death, the Philadelphia Inquirer reports.
The charged officer, it said, had been conducting training sessions as the department switched from a Glock to a Sig Sauer handgun.
On Sept. 30, Kedra, 26, was one of five troopers sitting around a table at the Public Safety Training Campus in Plymouth Township.
"[The charged officer] was discussing the trigger mechanics when he pulled the trigger on his duty-issued firearm," the District Attorney's Office and the state police said in a joint statement.
The weapon fired, and a bullet struck Kedra in the abdomen. He died about an hour later at a trauma center in Philadelphia.