These tools will help improve your experience on the shooting range and in training.
The Bullet Bunker Bullet Bunker Bullet Traps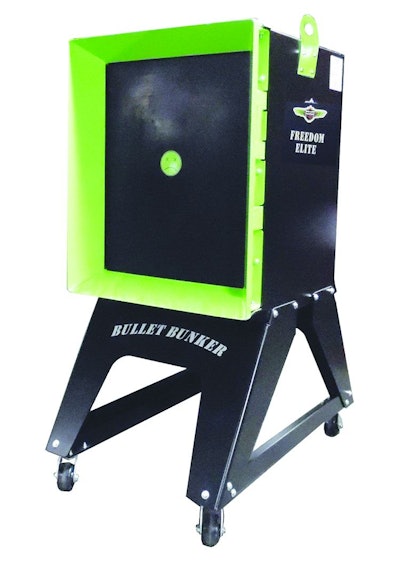 The Bullet Bunker designs safe, effective bullet collection and disposal systems. EPA friendly, each Bullet Bunker is made to capture bullets safely, reliably, and consistently. The Bullet Bunker is designed to trap or capture entire bullets versus redirecting them into a body of water, wetland, or earthen backstop. The Bullet Bunker protects the environment by collecting and containing lead fragments. The Bullet Bunker's entire bullet trap product line is made in the USA.
Challenge Targets Multifunctional Targets
Challenge Targets' law enforcement targets are modular so they can be added, relocated, and expanded on a range as funds become available. The company's multifunctional targets combine steel with paper to produce realistic failure-to-stop drills. Each system includes a steel target that can be placed behind the scoring zone of any cardboard target. When the shooter hits the appropriate scoring zone, they receive instant audio and visual feedback.
Dummies Unlimited 3D SWAT Targets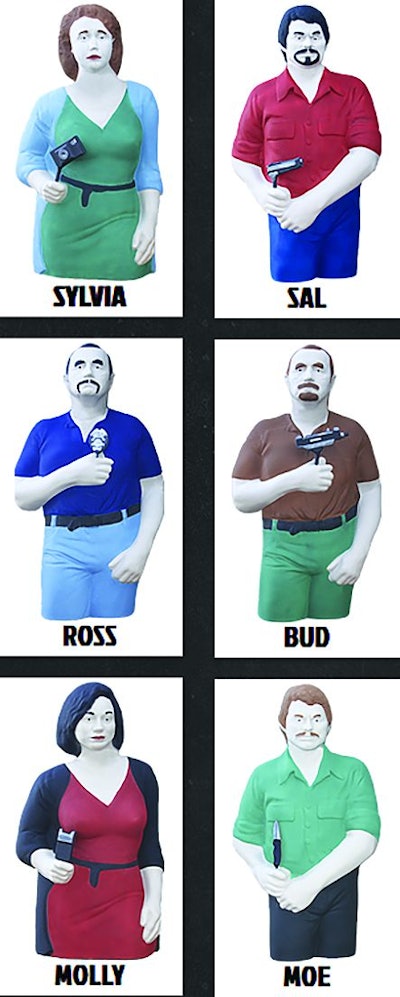 A life-sized 3-Dimensional design makes 3D SWAT Targets from Dummies Unlimited ideal for realistic room entry, sniper training, active shooter training, and "shoot, no shoot" judgment scenarios. They have realistic facial features, hair, clothing, and coloration. Made from tough self-sealing polyurethane foam, these models enable the average target to withstand 5,000 to 10,000 ball rounds from virtually any size firearm, and thousands of Simunition rounds. There are four different males and two different females to choose from. Available in non-reactive and reactive versions.
Laser Ammo USA Inc. Smokeless Range Shooting Simulator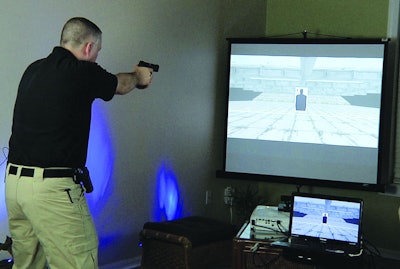 Laser Ammo USA's Smokeless Range is a budget friendly shooting simulator that can be used for basic training, marksmanship, judgmental training, state qualifications, law enforcement video scenarios, and more. You can build and share your own branching scenarios and drills. You can also practice with your own duty gun or recoil-enabled training firearm at the convenience of your office or department. This is a modular simulator that allows you to purchase many different add-ons to cover all department training needs.
Meggitt Training Systems XWT GEN4 Wireless Target Carrier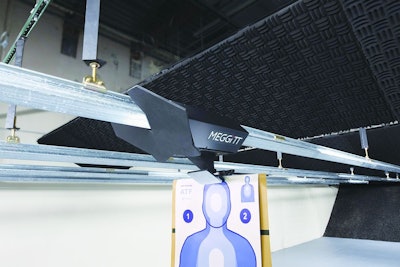 Meggitt Training Systems offers the XWT GEN4 wireless, 360-degree turning target retrieval system to meet the need for efficient, reliable, and user-friendly training systems. The carrier uses a Lithium Ion battery with a positive locking battery connection and ergonomic battery placement and replacement, providing a 50% increase in battery capacity. The new charging/docking system improves contact design for faster and more reliable charging.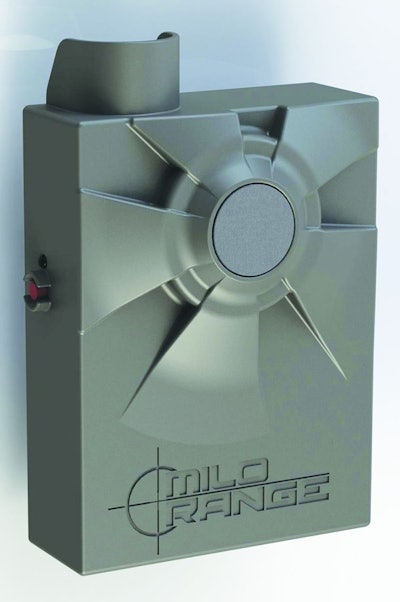 MILO Range offers what it calls the industry's first authentic wireless haptic feedback distraction device to replicate the stress-related challenges and physiological changes that occur in the human body during high-intensity training. Designed to look and be worn like a standard police body camera, the MILO Range React trainee distraction device can be activated by the instructor at any time during a MILO scenario-based training event. The device will strobe flash, vibrate, and activate a piercing 80-120db alarm. The system also comes with a wrist-worn biometric feedback device, which allows the MILO system to track and record the trainee's heart rate, and then replay it in the debrief.
MT2 Firing Range Services Firing Range Filter Treatment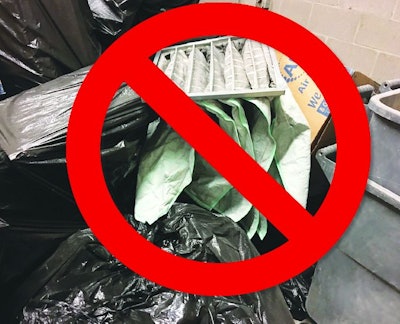 Improperly managed range waste such as filters, debris, soil, or other backstop material like rubber, along with incorrectly collected, containerized, and stored lead bullets or shot can trigger US EPA RCRA hazardous waste requirements and obligations for a range. MT2 Firing Range Services has a new (patent-pending) Firing Range Filter Treatment Technology to provide a low-cost solution for range owners. MT2 offers comprehensive health and safety plans, along with a detailed waste-management plan to ensure both protection and compliance are maintained.
Qualification Targets Inc. USMC-THREAT-PL and USMC-THREAT-HALO Targets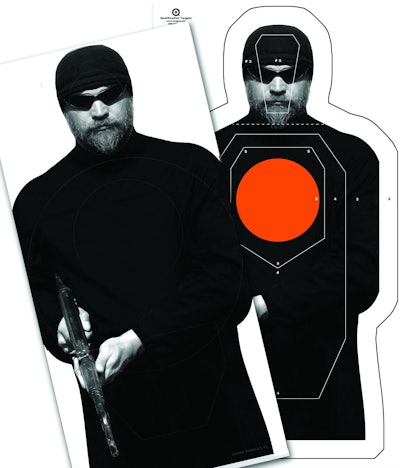 Qualification Targets Inc. has two new options in its USMC-THREAT Target line. The USMC-THREAT-PL is a corrugated plastic target. Printed directly onto the 20" x 40" plastic sheet, this new target provides an all-weather training option to the U.S. Marine Corps. The USMC-THREAT-HALO is another new threat option developed for the Marine Corps. This 24" x 45" target has an orange center mass for long distance feedback.
T4E Walther PPQ M2 Training Pistols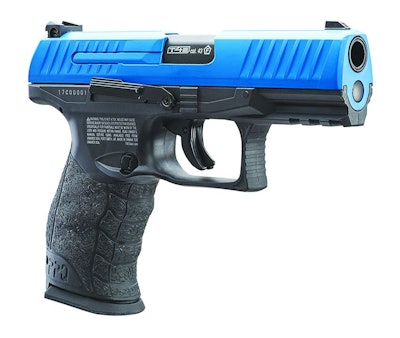 The T4E Walther PPQ M2 pistols are a complete training unit, firing the training rounds from an eight-round magazine using CO2 power to propel each round at approximately 320 fps. Each CO2 can fire up to 32 rounds at full power, allowing the magazine to be refilled with ammo up to four times. The T4E Walther PPQ M2 has an adjustable rear sight and picatinny rail, and fits the same duty holsters as the Walther PPQ, Walther P99, and other popular firearm models.
Troy Acoustics Outdoor Shooting Range Overhead Roof Structure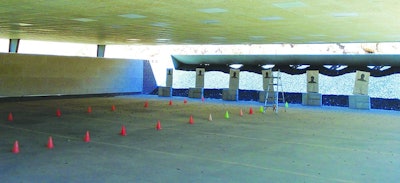 The Troy System Outdoor Shooting Range Overhead Roof Structure was chosen for the Pomona (CA) Police Department to provide gunfire audibility relief to adjacent neighbors. It was a cost-effective alternative to building a complete indoor range or moving the location of the facility. Additionally, Troy System shooting stalls were constructed to reduce rifle gunfire audibility without compromising training tactics. This met the required noise reduction for 200 yards from the source, reducing it by at least 10 dB or half the noise level. Troy Acoustics, via the proven Troy System, offers acoustic solutions for indoor and outdoor shooting ranges nationwide.
VirTra V-300 Training Simulator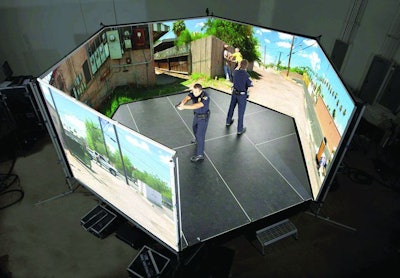 VirTra is best known for its V-300 ultra-immersive training simulator, which allows officers to train in a 300-degree environment with potential threats coming from almost all directions. The training environment can be made even more realistic with the addition of an optional 2,000-watt audio system. With five separate screens, the V-300 is large enough to accommodate 15 independent firing lanes for marksmanship training. Optional Threat-Fire is a wireless electronic impulse device normally worn around the student's mid-section that provides a momentary shock at the instructor's discretion to increase realism.