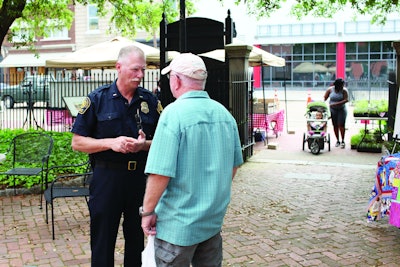 I recently had a conversation with a friend, former colleague, and police officer about the important concept of slowing down in police work. We discussed the lost art of taking valuable time to assess a situation when responding to dispatched calls. During our conversation, my friend described a personal experience he had that I am going to share in hopes of persuading you that time is sometimes on your side. So don't be in such a rush or you may cause an already tense situation to become even more dangerous.
My friend was dispatched to a call of a subject in the middle of a busy roadway. The man was not clothed, impeding traffic, and possibly under the influence or suffering from a mental illness. En route to the call he heard over the radio that a mental health professional, who works in tandem with law enforcement, was also being dispatched to the call in case his services could be used rather than jail or a hospital bed.
When my buddy arrived on the scene, he began to speak with the naked man using down-to-earth conversation and the persuasion skills he learned in crisis intervention training (CIT). The conversation and persuasion lasted an hour, and the man exited the roadway safely and without incident.
Don't Talk Cop
Success. But how? In short, my friend did not "talk cop" to this subject.
We are all familiar with the cliché example of a police officer speaking to a subject; everything is a directive, robotic, and not human, and it is void of empathy and emotion. My buddy, who is a SWAT operator, veteran deputy, Urban Shield competitor, and a well-respected member of the law enforcement community should be the poster child for "talking cop" and rushing into a situation, however, he explained to me he had identified a better way to mitigate situations by simply slowing down.
The story goes on, that during the course of his conversation with the subject, he learned the man was clearly suffering from a mental health disorder, and that could have been very dangerous for the officers. The man was a boxer with the physique to prove it. If not carefully handled, the interaction could have turned into a fight. My friend used a casual discussion about boxing to gain compliance and avoid a potentially violent and unsafe situation.
Professional Mistakes
Although this seems like a happy ending to this story, it did not end with getting the subject out of the road. The mental health professional who was dispatched to the call arrived on the scene and complicated things.
My friend explained to me, "Burton, I set everything up for this mental health worker. All he had to do was take his time and communicate with the citizen so we could get voluntary compliance to transport him to the hospital for an evaluation and everything would be fine." Instead, my friend said the mental health professional approached both the subject and himself and commanded the man to get into the police vehicle so he could be taken to the hospital on a temporary mental health hold. The subject looked at my friend and said, "What?"
The mental health professional became even more adamant. "You heard me, get into the police car or I will call an ambulance, and they will strap you to a gurney and transport you," he said.
The subject told my friend he was not going to go anywhere with the mental health worker and walked off down the street.
My friend caught up with him and empathized, "Yeah, I wouldn't go with that guy either; he's an asshole."
Ultimately the story ends when my friend spent just a little more time catching up with the man as he walked away and convinced him to voluntarily go to the hospital on the mental health hold.
Lessons Learned
Here are some important takeaways from this story:
• When arriving at the scene of a mental health call, if circumstances allow, slow down.
• Barking orders and giving demands to someone who is already agitated will only exacerbate the situation.
• Do not use "cop talk." Be empathetic to the subject, and communicate with the subject to build rapport.
• Finally, remember this—if nothing else—it is not about you. Effectiveness is often hindered when we act hastily based on our own agenda. How long is talking to this subject going to take? I need to hurry up and get to the next call. Both are examples of thoughts that support speeding up and not slowing down. And they can make things worse.
Seasoned officers often understand the logic behind slowing down, and every once in a while, there is a unicorn rookie officer who understands as well. Police officers are conditioned to be ready for conflict and resistance. However, if conflict and resistance can be overcome with relationships and logic, that is true success. If there is time, take the time to build relationships. If there is no time, then proceed accordingly.
Long ago, my mentor from the University Police Department, Sgt. Washington, told me, "You catch more flies with honey than vinegar." My friend understood this concept that day when he took the time to talk to the mentally disturbed subject.
Will things always go as planned? No. But we owe it to those in crisis to let them know that it is not about us as law enforcement, it is about them and we are here to serve.
So the next time you are dispatched to a call and you feel the need to rush, remember these four words, it's not about you.
Darrell Burton has a master's degree in social work from The University of Michigan, and has worked with and served in law enforcement for more than 12 years. He is a regular presenter at ILEETA and other conferences around the country, and a use-of-force, physical training, and CIT instructor. Burton is the Police Academy Coordinator for South Bay Regional Public Safety in San Mateo CA.