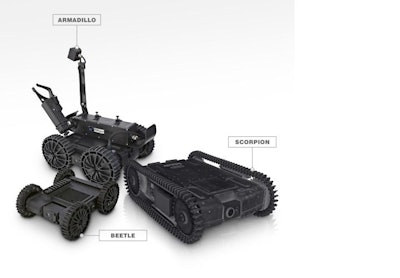 Allen-Vanguard will distribute Macro USA's trio of Unmanned Ground Vehicles (UGVs) designed for military and law enforcement users, the company announced.
Macro's three robots are portable units designed to access dangerous and confined spaces and are designed to meet the operational demands of users who face ever-evolving threats.
"This combination of progressively capable Small-UGVs reflects the growing need for first responders to use remotely operated surveillance and reconnaissance tactics in safely managing a wide range of urban threats," said Dennis Morris, Allen-Vanguard president and chief executive, in a statement.
The three platforms include the Beetle, a lightweight Nano-UGV that can be hand thrown onto a roof or into a window; the Armadillo, a slightly larger and multi-purposed Micro-UGV; and the Scorpion, a robust Small-UGV capable of deploying various specialized tools.
All three vehicles are operated through a common handheld controller that relays on-scene information to a command center to facilitate a coordinated response. Each system operates on state of the art COFDM communications technology and can be outfitted with Chemical, Biological and Radiological sensors for enhanced data acquisition.
"We are very pleased to support Allen-Vanguard and its network of international channel partners in delivering the industry's foremost man- portable Unmanned Ground Vehicles," said Robert Ramos, Macro's president, in a statement. "This relationship will significantly benefit end users worldwide by giving them immediate access to this increasingly vital response capability."