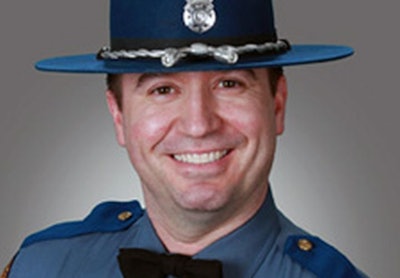 A suspect in the shooting death of a Washington State Patrol trooper early Thursday shot himself as SWAT members closed in, reports the Associated Press.
Investigators had received a tip about where to find Joshua Jearl Blake, the registered owner of the pickup truck stopped by Trooper Tony Radulescu. As the Kitsap County (Wash.) Sheriff's SWAT team approached Blake's house, deputies heard a single gunshot and found him dead.
Blake, an ex-con, was known to law enforcement in the area for meth convictions, assaulting the mother of one of his children and kicking out the window of a police car, reports the Associated Press.
Trooper Radulescu, 44, had pulled over the truck around 1 a.m. on Highway 16 about 20 miles west of Seattle across Puget Sound and had radioed the location and license plate number. When the trooper didn't respond to a status check, officers were sent to his location and found him mortally wounded.
Trooper Radulescu, a 16-year veteran of the agency, was assigned to the state patrol office in Bremerton. He served his entire career in the patrol's Bremerton district, working in several local communities.
"We've lost a co-worker, and the citizens of Washington have lost a humble public servant," Chief John Batiste said in a statement. "Tony was the kind of person everyone wanted to be around, including me. I truly enjoyed working with him."
Trooper Radulescu was popular outside the patrol as well. He was well known in the community for the many visits and presentations he did at local schools, according to Batiste.