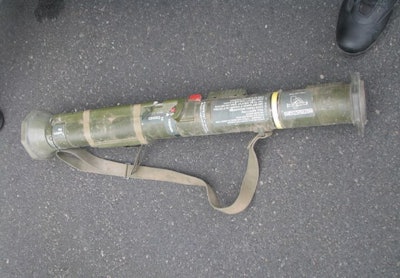 A search warrant served Wednesday at a Southern California home resulted in the seizure of a military rocket launcher, drugs, and ammunition by Los Angeles County Sheriff's gang deputies.
The sheriff's Operation Safe Streets (OSS) Bureau gang detectives also arrested four gang members at the home in the 16400 block of Georgia Avenue in Paramount.
During the bust, deputies seized an AT-4 (anti-tank) rocket launcher, handgun, silencer, ammunition for an assault weapon, body armor, and suspected methamphetamine.
Deputies served search warrants at six locations in Paramount, one in Compton, and one in Long Beach. The warrants stemmed from an investigation of two shootings in Paramount in May.
LASD arson explosives detectives determined the rocket launcher, which had no serial number, was inoperable. The launcher was designed to be fired one time and can't be reloaded.
The gang members arrested include Jose Gutierrez, 30, of Paramount; Jimmy Regalado, 25, of Paramount; Armando Nunez, 34, of Long Beach; and Jorge Galvan, 29, of Paramount.