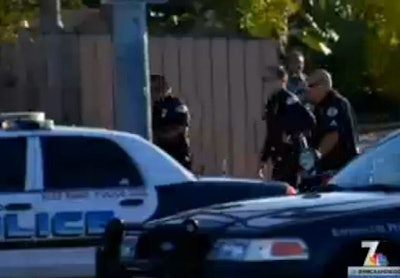 Two San Diego County Sheriff's SWAT deputies were wounded during a 10-hour standoff with a 22-year-old man whose suicide ended the confrontation.
Early Thursday, deputies entered the Encinitas home and found the man, identified as Evan Kwik, dead with a self-inflicted gunshot wound. The suspect had shot two deputies who responded to the home at 3:30 p.m. Wednesday, when the man's mother called 911. He opened fire after SWAT deputies deployed traditional tear gas in the house.
The man was apparently angry that his mother, Michelle Kwik, had taken out a restraining order against him, reports the Los Angeles Times. In the order, Michelle Kwik said her son was addicted to black tar heroin and was stealing from family members.
Deputies recovered a shotgun from inside the home. Evan Kwik had threatened deputies, and investigators believe he wanted suicide by cop, reports NBC San Diego.