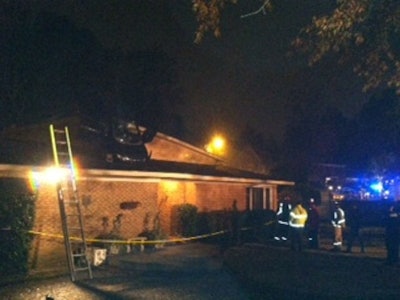 Columbia, S.C., officers have arrested a known gang member whose vehicle landed on the roof of a local home following a police chase early Saturday morning, the Columbia State reports.
Antwon Ashley, 31, has been charged with headlights required, reckless driving, hit and run property damage over $10,000, failure to stop for blue lights, trafficking crack cocaine, distribution within the proximity of a school, littering and opposing law enforcement.
The incident began around 2:14 a.m. Saturday when an officer on patrol noticed what appeared to be an illegal drug transaction at or near a vehicle, according to the Columbia PD.
He also noticed that the vehicle did not have any headlights on, then saw the suspect drive away erratically. The suspect did not stop for the officer's blue lights and sirens, allegedly driving off at a high rate of speed.
When the officer followed, he found the car on top of a home. People were home at the time, according to the police department's Jennifer Timmons. Luckily there were no injuries, she said.
Police are not sure how the driver managed to launch the car onto the roof.