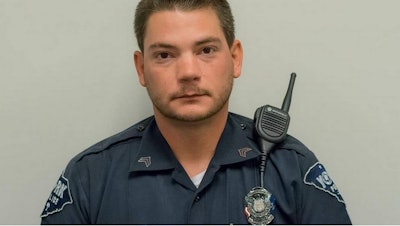 One of the four York County, SC, police officers shot during a January ambush was hit by a bullet from another police officer, officials said.
The suspect, Christian McCall, now serving life in prison, is legally responsible, authorities said.
That's because McCall started the gunfight and used an assault rifle to shoot at officers. The melee left one dead and three others wounded, reports the Herald.
York police Sgt. Kyle Cummings, a member of the York County SWAT team, was wounded by a round that likely came from another officer, authorities said. The bullet that hit Cummings is believed to have been fired by a rifle used by York County Sheriff's Office Lt. Mike Ligon, a SWAT member, said York County Sheriff Kevin Tolson.
"We know that it wasn't a round fired by McCall that hit sergeant Cummings," Tolson said. "But Mr. McCall is totally responsible for every police officer hurt during that incident. And the officer who was killed," Tolson said. "This was a combat-like situation, where split-second decisions had to be made. Every action taken by the officers was made to save lives. These were life and death decisions made by the officers."