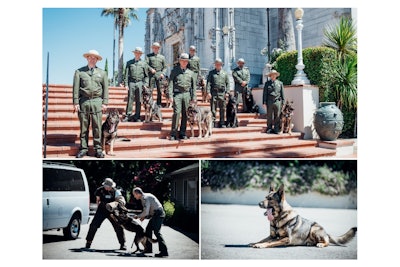 California State Parks is commemorating the 50th anniversary of its K-9 program.
At an event held at Hearst San Simeon State Historical Monument late last week, eight K-9 teams from across the state showcased live demonstrations that included obedience, detection, and protection skills.
"California State Parks is proud of the K-9 Program's success in the past 50 years," said James Grennan—Public Safety Superintendent for San Luis Obispo Coast District and K-9 Program Coordinator—in a press release. "Our dedicated and loyal canines are an amazing deterrent for our peace officers as they patrol the parks. We look forward to continue honoring our department's mission of protecting not only our staff and visitors, but also our most valued natural and cultural resources."
In 1969, State Parks rangers did not have full police powers nor were they armed, and could only enforce park rules and regulations. Because the rangers were typically working by themselves at night when making enforcement contacts, the department felt that a K-9 would be a very beneficial and protective tool for the rangers. A dog trainer named Joe Simpson trained agency's first K-9. Originally trained as a guide dog, Sam possessed skills later determined to be a better fit as a K-9 with California State Parks.