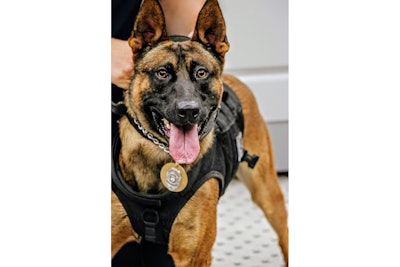 Officers with the Prince George County (VA) Police Department welcomed two new officers and a new K-9 to its ranks on Monday.
The agency posted to Facebook, "Today, Officers Emanuel Binford and Charles Leftwich began their careers with the Prince George County Police Department. Both officers will begin field training this week. Please join us in congratulating these new officers. We wish them much success as they start a new chapter in their professional lives."
In a separate Facebook post, the agency said, "It was a busy day for swearing-in ceremonies! Today, we officially swore K-9 Valor into the department. Needless to say, he was very excited to be part of the team! K-9 Valor is an 18-month-old, male, Belgian Malinois. Valor's law enforcement training took place in Holland and then continued in the U.S. He will serve the department as a K-9 in Patrol. The Belgian Malinois breed is smart, confident, hardworking, and steadfast loyal."