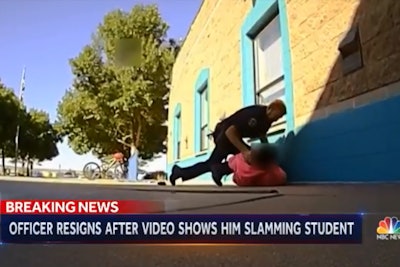 A school resource officer with the Farmington (NM) Police Department has tendered his resignation after video surfaced of him shoving an 11-year-old girl into a wall and then restraining her on the ground.
According to NBC News, Zach Christensen—an 11-year veteran of the department—had been placed on administrative leave after the video was brought to the attention of command staff.
During the incident a school administrator attempted to intervene, saying "Officer Christiansen, she is not a threat to yourself or others."
Christensen replied that she was a threat.
On Monday, Farmington Police Department Chief Steve Hebbe confirmed Christensen's removal from the force saying, "There's no excuse for the way this girl was treated."