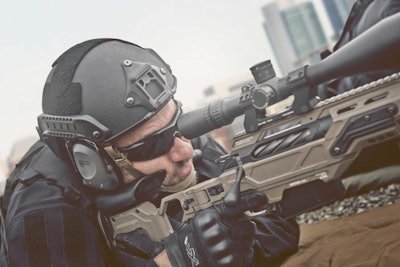 The NP Aerospace lightweight ballistic helmets range has passed NIJ 0106.01 testing Level II against 9mm and .357 Magnum, and Level IIIA 44 Magnum ammunition rounds.
The AC915 high cut and AC914 full cut ballistic helmets are ultra-lightweight, delivering class leading ballistic, fragmentation and blunt trauma protection, the company says. The helmets have also been extensively tested for impact, back face deformation, and compression in NP Aerospace's ballistic labs.
NP Aerospace ballistic helmets are fielded with multiple NATO militaries and are currently being delivered to Canada's Department of National Defence (DND) for their national helmet program.
"Since our first production of ballistic helmets in 1979, NP Aerospace has manufactured and delivered over 1 million units to the British and Canadian Armed Forces, among many other global customers. We take great pride in being an armor technology market leader and providing life-saving products. Successfully passing NIJ testing on our current helmets range aligns with our support of U.S. and global law enforcement customers looking for NIJ compliant products."
About NP Aerospace
NP Aerospace is a global armor technology manufacturer and vehicle integrator with an extensive portfolio developed using ultra-lightweight, high performance materials. The portfolio includes ballistic helmets and shields, explosive ordnance disposal (EOD) suits, body armor plates, and composite armor for vehicles, vessels, or aircraft.