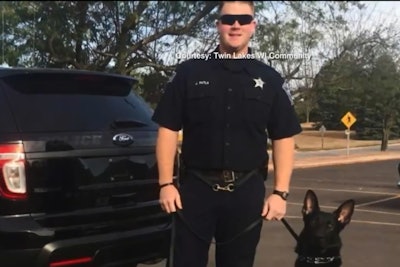 The Twin Lakes (WI) Village Board on Monday night, moved to allow K-9 Rex to stay with former Officer Joe Patla for the purchasing price of $18,000. The board set a special meeting after the decision to retain the dog drew controversy, and dozens came out in support or opposition. K-9 Rex's future was the only item on the agenda Monday night -- and at times, the meeting got heated as people debated what was best for the dog.
The controversy began when Officer Patla put in his two weeks' notice. The village board said "fine," but the K-9 officer would not be allowed to keep the dog. Patla offered to purchase Rex, but was told he could not.
After that announcement, pushback from the village's residents was immediate. Petitions started floating around online to keep the pair together -- and a GoFundMe account was created to raise money to hep Patla purchase the dog, FOX 6 reports.
"My family is deeply humbled by all the outpouring of support. I wish I had a proper description for the love we have been shown. I am at a loss for words to express our sincere gratitude," Patla told the community.