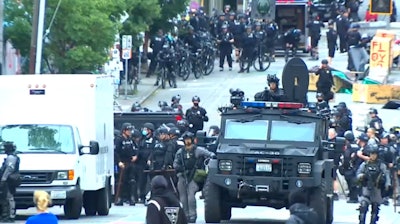 Dozens of protesters in Seattle's CHOP area have been arrested after Seattle Police officers flooded the area early Wednesday morning to clear out the weeks-long occupation of several streets.
Seattle Mayor Jenny Durkan issued an executive order in the predawn hours Wednesday, essentially declaring CHOP over and authorizing police to clear the streets, KOMO reports.
Officers gave the order to disperse the area at 5 a.m. and gave protestors eight minutes to comply, informing them they could safely exit the region to the south.
After giving several warnings to disperse, police arrested 31 occupiers who refused to leave, Seattle Police said.
Police report that some had tipped over portable toilets in the area, but overall the scene has been calm as officers cleared the area, though tensions remain high.
Because of violence in the zone, officers executed the raid in full armor and with multiple armored rescue vehicles. "The Seattle Police Department basically reclaimed the precinct in less than 30 minutes, 5 feet at a time with the bicycle officers out in front," said Omari Salisbury, a reporter with Seattle's Converge Media. Salisbury has been live streaming from the CHOP throughout the protest in Capitol Hill.
The move to clear the CHOP came after a particularly violent stretch in the area during the past several nights. Two people have been fatally shot, including a 16-year-old boy, and at least four others have been wounded in at least four shootings in the past two weeks.
"The CHOP has become lawless and brutal," Seattle Police Chief Carmen Best wrote in a statement as officers moved in. "Four shootings -- two fatal -- robberies, assaults, violence and countless property crimes have occurred in this several block area."
The CHOP was formed when orders were issue by the mayor to abandon the police precinct.